Vela products offer a cure for BIM Shyness by moving software from the jobsite trailer to the point of construction.
Autodesk has acquired Vela Systems, a maker of construction field management software. Vela products are all software-as-a-service (SaaS) products, either as mobile apps or web-based services. Autodesk plans to add Vela Systems products to its AEC division's growing cloud and mobile portfolio.
Terms of the transaction were not disclosed, which means the purchase price is not a large enough percentage of Autodesk revenue to be considered "material," capable of affecting Autodesk revenue projections.
Vela Systems products address an obvious pain point: 25% of all construction dollars are wasted, yet 90% of all software for construction management is designed for use either in the home office or the project trailer, not directly on the construction site. Vela Systems products are meant for use right at the point of construction, and can work either online or off, as field conditions allow.
Products from Vela Systems include:
Vela Web: The company's foundation product is a web-based platform that enables field users to access documents, activities, and reports. It is accessible via the Internet on any device;
Vela Mobile Email: Designed originally for Blackberry cell phones, but works with any mobile devices capable of sending email; used to submit issues to Vela Web, with photos;
Vela Mobile iPad: A mobile application for use in Apple iPad to access documents and issues on the jobsite; includes a document library, checklists for Quality Assurance and Quality Control (QA/QC), Safety and Commissioning, and punch list issues;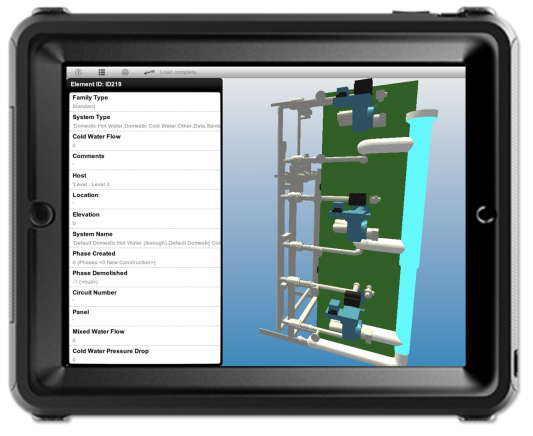 Vela Reports: A Web-based reporting platform for Vela field management activities
Field BIM-Data: For working with non-graphic data in a building information model (BIM);
Field BIM-Interactive: For working with the visual BIM at the point of construction.
Conquering BIM Shyness
If BIM were a person, we could say it suffers from a fear of appearing on a construction site. Usually the closest BIM gets to being right where the real work of construction happens is the job trailer. The founders of Vela Systems attacked this by creating web and mobile apps that give BIM new-found courage.
The advantages of getting BIM onsite are two-fold. Construction workers can access the rich data where it is needed, when it is needed, and they can contribute data on job progress and construction issues back to the model.
Vela Systems has been a technology partner of Autodesk; the software and services are integrated with current Autodesk integrated project management software including Autodesk Navisworks, a construction project review software suite. The acquisition makes it easier for Autodesk customers to wean themselves from manual processes in the field.
Beyond the technology, there is another very good reason for Autodesk to acquire Vela Systems: the customer list. Vela's named accounts reads like a Who's Who of technology leaders in construction: Balfour Beatty, Kitchell, NTA, Skanska and Turner Construction. In the YouTube clip below, Ron Denny of Turner Construction describes his company's use of Vela Systems products.