The new benchmark tests workstation performance without requiring specific applications to be preloaded. 
SPEC's Graphics and Workstation Performance Group (SPEC/GWPG) has released SPECwpc V1.0, the first benchmark to measure all key aspects of workstation performance based on diverse professional applications.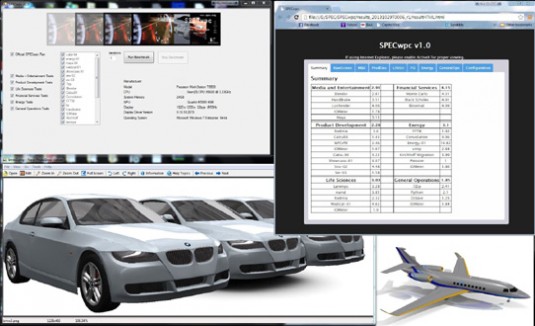 More than 30 workloads are included in SPECwpc V1.0 to test CPU, graphics, I/O and memory bandwidth. The tests are divided by application categories that include media and entertainment (3D animation, rendering), product development (CAD/CAM/CAE), life sciences (medical, molecular), financial services, energy and general operations. Individual scores are generated for each test and a composite score for each category.
The benchmark does not require the full application and associated licensing to be installed on the system under test, simplifying set-up, running and results reporting.
SPECwpc V1.0 was developed by the SPEC workstation performance characterization (SPECwpc) project group, comprising leading vendors including AMD, Dell, Fujitsu, Hewlett-Packard, Intel, Lenovo, NEC and NVIDIA. SPECwpc expects the benchmark to be used by vendors to optimize performance and publicize benchmark results for different vertical market segments. Users can employ the benchmark for buying and configuration decisions specific to their industries.
"We're filling a gap in the performance-measurement field for a comprehensive benchmark aimed at professional-level workstations," says Tom Fisher, SPECwpc Chair. "The benchmark is easy to install and run, but provides a greater level of performance detail than has been available previously."
SPECwpc V1.0 is available immediately under a two-tiered pricing structure: free for non-commercial users and $5,000 for commercial entities. Commercial entities are defined as organizations using the benchmark for the purpose of marketing, developing, consulting for and/or selling computers, computer services, graphics devices, drivers or other systems in the computer marketplace.