Service Lifecycle Management keeps the revenue needle pointed upward. Large deals were up significantly from a year ago.
PTC (NASDAQ: PMTC) closed its fiscal year on September 30 with annual revenue of $1.29 billion, propelled by fourth quarter revenue of $345 million, up 5% from a year ago. But it was a squeaker of a finish. During the quarter PTC closed two acquisitions that contributed $27.1 million; without the new revenue stream PTC would have reported a downturn for the fourth quarter. The annual revenue figure is a company record.
Net income for the quarter was $56.4 million, a substantial turnaround from an $83 million loss a year earlier. For the year net profit was $143.7 million, also a flip to the positive from a net loss of $35 million.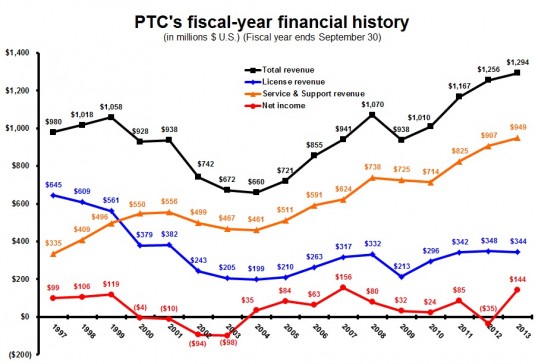 CAD and PLM revenues remain the core of PTC's business, but the company is moving as fast as it can through acquisition to expand into new business lines. Both new acquisitions that contributed revenue in the fourth quarter are in PTC's new Service Lifecycle Management line. The sales team did its usual year-end magic, recording 45 large deals (recognized license + services revenue of more than $1 million) in the fourth quarter, up from 35 in Q4'12 and 33 in Q3'13. The revenue mix within these large deals was skewed more heavily toward licenses than services.
CAD license revenue grew 5%, not a growth number by historic standards in the software industry. PTC says performance in its extended PLM business was "muted by the softer macroeconomic environment, most noticeably in the Americas." Existing customers are slowly converting from the old Pro/E CAD line to the new Creo software, but not at a pace that earns a nice sales bonus.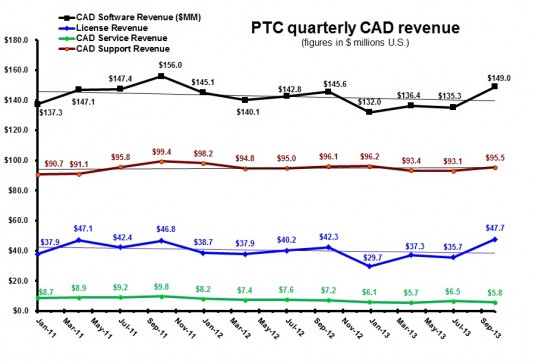 PTC says the quarter was a big improvement in Europe and "solid" in Asia/Pacific, while "softer" in the Americas. PTC CEO James Heppelmann says the Americas results were impacted by "very strong performance" a year ago. Revenue by regions in the fourth quarter:
Americas: $142.7 million, up 1.7% from a year earlier;
Asia/Pacific: $76.4 million, up 3.4% from a year earlier;
Europe/Middle East/ Africa: $126 million, up 13.4% from a year earlier.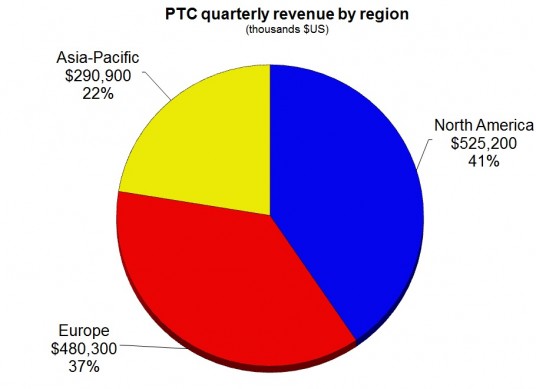 As part of its rebranding, PTC's sticker symbol on the NASDAQ exchange will change on December 3, 2013 from "PMTC" to "PTC."
L. Stephen Wolfe, P.E., a contributing analyst for Jon Peddie Research, provided research for this report.
Five more of our custom charts follow. Larger versions of these charts are available at our Facebook page, www.facebook.com/GfxSpeak.