Distene mesh technology streamlines the CAD-to-simulation process.
3D development toolkit maker Spatial Corp has expanded its technology for the intricate CAD-to-simulation process by licensing mesh technology from Distene. The French company is already considered a leader in mesh software and components for 3D applications, with clients including Ansys, MSC Software, Siemens, PTC, and Autodesk.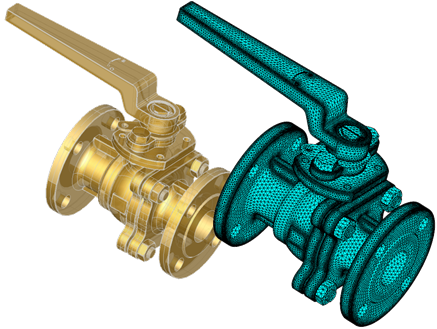 Inclusion of Distene technology will make it easier for companies to include precision meshing in their applications and in-house software tools. The technology will be integrated into 3D Precise Mesh, which Spatial says bridges the gap between CAD and simulation/analysis. "In the past, end users have resorted to iterative meshing, analysis and design processes that can take weeks to complete. 3D Precise Mesh not only accelerates time to market, but also automates the process, while improving the overall quality of the resulting generative design," says the division of Dassault Systemès in announcing the use of Distene technology.
The new meshing component self-contained and can be integrated into existing  software application created by Spatial customers using either ACIS or CGM as their 3D modeling kernel. 3D Precise Mesh also parallelized meshing, which offers a much faster route to solution for even the most demanding simulations.
What do we think?
CAD-to solver has been a bottleneck in the 3D modeling world. This partnership simplified access to powerful analysis applications for CAD vendors and large manufacturers who still create custom in-house applications as a matter of competitive advantage.