With new gaming machine, Microsoft hopes to win back customers and developer support.
Microsoft has announced the specifications of Project Scorpio, the upgraded version of the Xbox One. Microsoft says the new features have been developed based on users' feedback; the company refers to Project Scorpio as a console without boundaries.
Microsoft's new system will be released at the end of 2017, and is built around a new SoC from AMD, the Scorpio engine. The company gave a preliminary interview to Digital Foundry and revealed the following features and specifications:
CPU: Eight, custom AMD x86 cores running at 2.3GHz as compared to eight Jaguar cores that run at 2.1GHz in Sony's PS4 Pro.
GPU: 40 customized AMD compute units running at 1,172 MHz as compared to 36 GCN compute units at 911 MHz in the PS4 Pro.
RAM: 12GB GDDR5 as compared to 8GB in the PS4 Pro.
Bandwidth: 326 GB/s as compared to 218 GB/s in the PS4 Pro.
Storage: 1TB.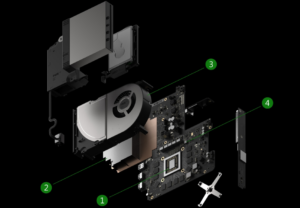 The Xbox website mentions the following features:
Scorpio Engine: With 6 Teraflops, 326GB/s of Memory Bandwidth and advanced, custom silicon, Microsoft claims the Scorpio Engine is the most powerful console gaming processor ever created.
Vapor Chamber: A first for home consoles, Project Scorpio's Vapor Chamber uses advanced liquid cooling to ensure the Scorpio Engine stays cool while running at a higher clock speed, in the same basic package size as the previous version.
Centrifugal Fan: A supercharger-style centrifugal fan rapidly pulls in and compresses air to deliver maximum cooling with minimum noise.
Hovis Method: To maximize performance and minimize power consumption, Project Scorpio uses the Hovis Method, a cutting edge digital power delivery system that custom tunes each console's voltage to the CPU.
No compromises
Microsoft says all existing Xbox One and backwards compatible Xbox 360 games will run more smoothly, load faster with better resolution at native 4K and full 60 frames-per-second.
Forza on Scorpio
Microsoft showed ForzaTech gaming demonstration that ran at 4K and 60 frames per second with only 60–70 percent of GPU utilization, indicating that Project Scorpio has power to spare.
As has been well-documented, Microsoft has lost ground to the PS 4. The company has not taken this lightly. With this new console the company is focusing on gaming performance, specifically 4K gaming performance. Also, it's bringing its base up to date. Some of the improvements for Scorpio will be backwards compatible with the earlier Xbox One including the optimization of the ABP (audio block processing) module, which will bring Dolby Atmos support. Microsoft  is rebooting its gaming plans, offering a high-quality console with amazing specifications. It remains to be seen how, and if developers will leverage that power.
However, Microsoft has taken an interesting approach to its development of the Scorpio engine with some reverse engineering. The company looked at the performance of popular games on the Xbox One, identified common bottlenecks and optimized the new SoC for those cases. Meaning developers get a boost for free, as existing games should run smoother, and potentially faster.
According to Microsoft, Project Scorpio will launch during the 2017 holiday season. Though no official price has been announced, Digital Foundry suggests the console will cost around $500 at launch. Microsoft's Xbox chief Phil Spencer has said the new console will be competitively priced, but customers should keep in mind, the new box offers a big performance leap over the competition.
Microsoft is also rumored to be working on a VR HMD, to further compete with the PS4. The Scorpio should be able to handle such a device with relative ease. It has been revealed that the Scorpio will work with headsets now on the market such as the Oculus Rift, HTC Vive.