After initially resisting calls to move beyond iPad, the new Android app is optimized for tablets.
The SolidWorks division of Dassault Systèmes has released an Android version of its popular eDrawings mobile viewer. Optimized for tablets running Android 4.0 and higher, the specs pretty much match the free iPad version. The $1.99 app is now available on Google Play.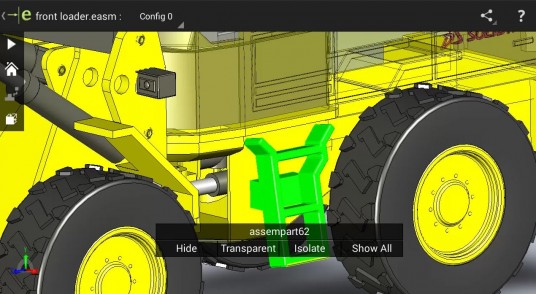 eDrawings for Android can open the variety of 3D files types associated with SolidWorks from a wide variety of sources, including email attachments, cloud storage services (Dropbox, SkyDrive, Google Drive, Hightail, and others), web and FTP sites, and network folders. Users may zoom, pan, and rotate both 2D drawings and 3D models using multi-touch commands. 3D standard views may be animated, and users may browse through a set of 2D drawing sheets.
Other viewing features include
Explode
Collapse
Hide
Show
Isolate
Make Transparent
Over at the independent SolidWorks blog SolidWorksHeard, Lou Gallo reports Android eDrawings can open SolidWorks template files, not possible on the initial iOS version.
When SolidWorks released eDrawings for iPad, it was three months from the introduction of the first version until a Pro version with additional features was released. No word from SolidWorks right now on whether there will be a Pro version for Android, but there is a press event at SolidWorks headquarters in three weeks.
SolidWorks says eDrawings for Android supports any Android device running Android 4.0 or higher, but is optimized for use with 7? – 10? tablet form factors, including the Google Nexus 7, Google Nexus 10, Samsung Galaxy Tab 7 and Samsung Galaxy Tab 10.