Combining intelligent steel data translators with 3D CAD in the SolidWorks environment creates a data-centric solution for structural design and engineering.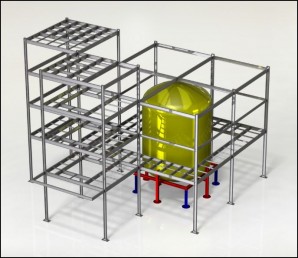 SolidWorks third-party developer SolidACE has released a 2012 edition of BuildWorks, its structural steel design and engineering application for SolidWorks.
Although not commonly thought of as an architectural CAD product, SolidWorks has nonetheless a considerable percentage of its user base in AEC, primarily in structural engineering and design. SolidACE reaches out to that market by combining its expertise in the use of intelligent steel data translators, such as SDNF and CIS/2, with its knowledge of SolidWorks. The end result is a data centric solution, providing a link between design workflows of mechanical, structural and plant departments.
Dr. Vladimir Popov, CEO of SolidACE, says BuildWorks 2012 is being targeting for SolidWorks Gold Product Certification, which it hopes to anounce by SolidWorks World 2012 next month in San Diego.
New features and enhancements in BuiltWorks 2012:
Compiled and tested against SolidWorks 2012;
Automated dimensioning option in Drawings Generator;
New databases of steel section profiles for Australia and New Zealand;
Support of End Plates and Free Plates in Import of CIS/2 interoperability format;
Improved Connection handling performance.
BuildWorks 2012 remains backwards-compatible with its previous two releases, based on SolidWorks 2010 and 2011.