As the first movers with a software development kit for mobile CAD viewing, IMSI/Design gains a powerful advantage in the market. TurboViewer is still the only mobile CAD viewer to display both 2D and 3D DWG drawings.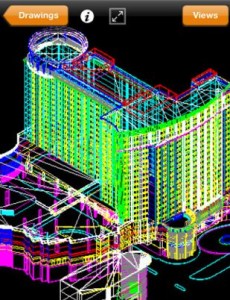 IMSI/Design will release a software development kit (SDK) for its TurboViewer product line, making it the first CAD vendor to provide a way for other developers to leverage their product. TurboApps SDK will be released as a free product February, 2012. Developers who use it to create a shipping product will pay yet-to-be determined royalties.
"Our goal with TurboApps SDK is to create a mobile development platform specifically designed to take advantage of those things that make portable devices so different from desktop computers. We believe we can be a foundation for mobile CAD going forward and can't wait to see what apps the smart phone and tablet generation creates," says IMSI/Design CEO Royal Farros.
In an interview, Farros added that IMSI does not see mobile as a replacement for the desktop. "Does one do precision design on a smartphone? No, you need the tools of the desktop. What we see is a world of other CAD solutions where the portability aspects such as the built-in camera and sensors, create new CAD-related opportunities."
Doug Cochran is product manager for TurboViewer and the SDK. He sees architecture and real estate field work as a ripe industry segment for customized mobile solutions. "It's a hodge-podge of work flows right now. You can't walk around and take measurements with a laptop, it's awkward. Right now people are using a laptop, clipboard, digital camera. Then they have to go back to the office and gather all the data and generate reports." Cochran believes custom apps for construction and remodeling fieldwork can streamline the process.
IMSI/Design is best known as the publisher of TurboCAD, a retail 2D/3D CAD program that is almost as old as Autodesk. TurboViewer is not built on the same code base as TurboCAD, but is designed for the real-world appreciation that "the world still revolves around Autodesk" and its DWG format in AutoCAD, says Farros. "DWG is really important to us. Our apps will still work with DWG. What we are doing is very different, but we have to be completely complementary but different. Anything we do has to accommodate that, and embrace it." TurboViewer and the TurboApps SDK use the Teigha code library for DWG compatibility from the Open Design Alliance, but IMSI/Design COO Bob Mayer said the most work in creating TurboApps SDK "was to convert and translate to OpenGL for the tablets. Most ODA developers will face the same thing; it was a complex process, especially when it comes to 3D and rendering."
Can lightning strike again?
IMSI/Design is well aware that one of the two best moves Autodesk did in the early days with AutoCAD was to open it up to third-party customization. (The other was low pricing to education.) As Farros points out, "AutoCAD was popular in its own right, but the specialized solutions on top made people loyal. Today Autodesk has 2,500 registered developers, a phenomenal achievement."
A CAD developer ecosystem will be big in the mobile space for somebody. Autodesk is trying to move its desktop franchise to mobile. IMSI/Design believes Autodesk is trying to recreate the desktop experience rather than build a complimentary ecosystem, and thinks by releasing an SDK now it can gain first-move advantage in a new marketplace. Only time will tell, but the timing and the idea certainly seem on the right track.