Upgraders see 16% productivity gain within 2 months.
A recent international survey of design and engineering specialists shows the average user experiences a productivity increase within 2 months of upgrading their primary CAD software. The finding comes from part of a larger survey, the Worldwide CAD Trends 2016 Survey conducted by Business Advantage Group.
These survey results are based on responses from CAD users, designers, engineers, and other professionals including managers and senior executives. Almost half of those surveyed had upgraded (34%), changed their primary CAD software (6%) or added an application to their CAD software (9%) in the last 12 months.  To determine the business value of software upgrades, Business Advantage asked a series of questions about productivity during the transition, to those who had made these changes.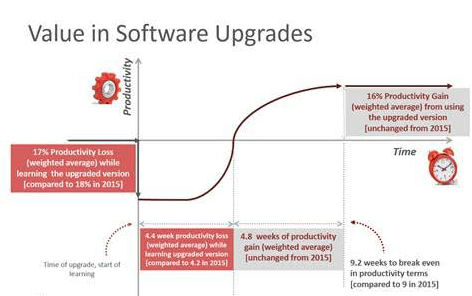 The answers about productivity changes are the individual users' own assessments as percentage increases or decreases in their productivity. Questions asked:
Was there a temporary loss of productivity soon after implementing or upgrading your CAD software?

What was the loss of productivity soon after implementing or upgrading your CAD software?

For how long did the loss of productivity last?

Once your company learned the new software what productivity increase have you achieved over the previous way you worked?
"The results show that on average CAD upgrades break even (in productivity terms) in just over 2 months (an improvement since 2014, stable since 2015) and thereafter continue to produce productivity gains," says Chris Turner, CEO/Managing Director of Business Advantage.
Other findings:
57% reported no loss of productivity during the upgrade process;

30% acknowledged a temporary loss in productivity (the other 13% didn't know or couldn't say);

The average loss while learning the upgraded version was 17%; this lasted an average of 4.4 weeks (for comparison, in 2015, the average loss was 18% and it lasted for 4.2 weeks).
"Based on the survey findings, we can therefore conclude that CAD software upgrades are delivering a net productivity gain and hence real business value to CAD users," adds Turner.