New 15-inch and 17-inch models are designed to stay home and work or go out into the field.
By Kathleen Maher
If there's any debate about what makes a workstation different from a regular PC, Dell would put that to rest with its latest lineup of mobile workstations. The new Dell Precision lineup, which follow on its T-Series Precision desktop machines, use Intel's newest processors, the Core i5, i7 and i7 Extreme and add fast memory and workstation graphics boards from Nvidia and AMD. The Precision M4700, Precision M6700 and the M6700 Covet Edition are designed for "uncompromising performance" in a mobile footprint.
The rugged new machines come will come in a 15-inch, 17-inch standard models, and a snazzy new 17-inch Covet. The Deluxe Covet is a loaded deep red machine, upgraded from an orange predecessor.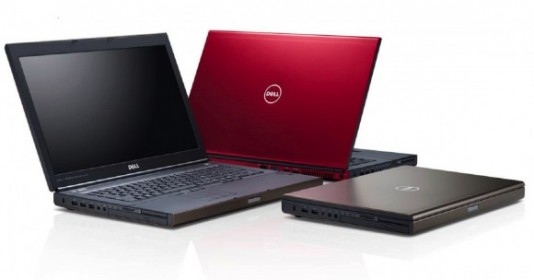 The Dell machines are not the lightest mobile computers on the shelf, but Dell will tell you they're the lightest mobile workstations available. They're built using an aluminum and magnesium alloy. Dell says their material ensures a durable but lightweight machine, especially when combined with their heavy duty keyboards. As part of the roll-out in San Francisco, Dell invited users to come and talk to the press and analysts about their choice of Dell machines. Sanjay Das, CTO of Tippett Studios in Berkeley, California said the company had been using Macs and that when he came to the company he thought he would be specifying HP machines. However, he wound up going with the Dell machines.
Tippett Studios is best known for their character animation. Das said the company had been using Macs a lot because the artists liked them but he said the company was getting by on a rag tag collection of machines assembled ad hoc. Das said the company infrastructure was being held together with duct tape and his job was to build a professional infrastructure including servers and workstations. Das went with Dell throughout. He likes the machines but he also noted that Dell also worked closely with him to understand the small company's needs.
In another situation, Appalachian State University is a long-time Dell customer.  IT manager Steven Taylor said the first thing he did with the new workstations from Dell was take them apart and he was utterly delighted with the machines' workmanship. He also mentioned that there was even a place to put the screws when you took it apart to upgrade the memory.
 

M4700

M6700

Covet

Display size
15.6"
17.3"
17.3"
CPU type
Intel Core i5, i7 and i7 Extreme Edition
Intel Core i5, i7 and i7 Extreme Edition
Intel Core i5, i7 and i7 Extreme Edition
Max memory
32GB 1600/1866MHz
32GB 1600/1866MHz
32GB 1600/1866MHz
Graphics
AMD FirePro M4000 (1GB)NVIDIA Quadro K1000M (2GB)

NVIDIA Quadro K2000M (2GB)

AMD FirePro M6000 (2GB)NVIDIA Quadro K3000M (2GB)

NVIDIA Quadro K4000M (4GB)

NVIDIA Quadro K5000M (4GB)

AMD FirePro M6000 (2GB)NVIDIA Quadro K3000M (2GB)

NVIDIA Quadro K4000M (4GB)

NVIDIA Quadro K5000M (4GB)

Storage devices
 3
 4
 4
Configuration Chart: Dell hopes to have something for every professional with its new mobile workstations. (Source: Dell)
As Jon Peddie Research has been documenting in its graphics device reports, mobile machines have been steadily replacing fixed workstations. We are increasingly mobile these days as many more workers tend to take their computers with them to the field for video, scientific studies, and construction. In fact, mobility can be so important for customers that they're willing to opt for consumer class machines. The challenge for workstation vendors is to convince their customers not to compromise, but to step up to mobile machines with workstation features including dependability, color and compute accuracy, scalability, ISV support, and if that's not enough, the mobile extras like long battery life.
New views and graphics options
Dell showed several options for the workstations including machines with 3D displays for CAD design and wide gamut color displays tuned for color accuracy for design and art. The 3D capability is provided by Nvidia's 3D Vision Pro, which uses an integrated RF communications hub to support wireless active shutter glasses.
Dell says it is the first workstation vendor to offer a wide choice for computer graphics including AMD's FirePro M6000, the first board with PCIe x16 Gen 3 for fast data throughput. Dell plays up Nvidia's Optimus capability, which dynamically shuts off the power hungry discrete GPU when it's not needed, giving a boost to the battery life.
Multiple displays and display connectors are supported through three integrated video ports, one VGA, one HDMI and one DisplayPort. I/O is likewise rich; the machines feature two USB 3.0, two USB 2.0, and one eSATA/USB combo port. The M4700 and M6700 can power up to three simultaneous displays when undocked and up to five displays when docked and are compatible with the Latitude E-family dock.
Memory choices
The company notes that it supports DDR3 SDRAM; customers can go for 32 GB of system memory using 1600 MHz memory or go for the fastest available memory option: 16 GB of 1866 MHz memory. In addition, SATA 512 GB SSD (solid state drives) are available for these workstations. Like its predecessors and its big brothers, the fixed T-series workstations, the new mobile workstations feature removable optical drives for security and for organization. For instance companies may keep different jobs on different drives. Dell execs at the rollout said they have some clients who may need to get out of a place in a hurry leaving their laptops behind. The swappable drives let them get out with their data. The first thing that came to this writer's mind was that it's perfect for terrorists who always seem to get caught with their hard drives full of great stuff, but that's would be a really terrible marketing plan.
The M4700 has support for 3 storage devices, and while the M6700 and Covet machines can support 4. In all this adds up to a potential 1.8TB of total storage for the M4700 and 2.8TB for the M6700 and Covet machines.
Finally, the cool and quiet requirements for mobile machines are satisfied with dual fans. Workstation makers have discovered that they can use more small fans in systems so that they do a better job of cooling without whirring up with a big noise.
Dell has developed ISV certification programs with a wide variety of vendors including Altair, Ansys, Autodesk, Adobe, Avid, Grass Valley, Matrox, Sony, Dassault Systèmes, PTC, Siemens PLM Software, Barco, Schlumberger, Landmark, ESRI, ffA (Foster Findlay Associates), and Dynamic Graphics.
Pricing and availability
The new mobile workstations are available worldwide for purchase. The US starting prices are $1,649 for the Dell Precision M4700, $2,199 for the M6700 and $3,579 for the M6700 Covet when all configurations are available.