Four years since the last major update, Manga Studio 5 now supports 64-bit and multicore CPUs and sports a new graphics engine.
Smith Micro today released Manga Studio 5, unique software for drawing, laying out, illustrating and publishing manga comics. It has been four years since the last major release of Manga Studio, giving Smith Micro plenty of opportunity to enhance the product.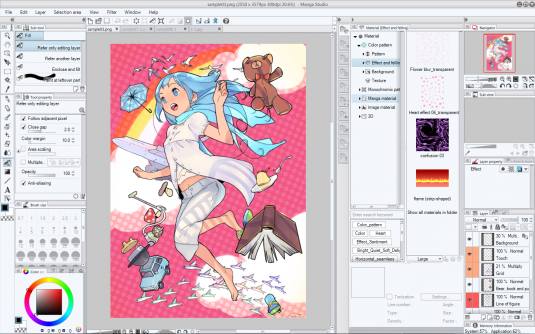 Key among new features is support for current hardware, as both the Windows and Mac versions support 64-bit computing and multi-core CPUs. The underlying graphics engine has been rewritten, and the user interface has been given a complete overhaul. On a contemporary computer Manga Studio 5 can support high-definition and multi-layer artwork without bringing the system to its knees. Users can scan in existing artwork or draw from scratch within the application using a mouse or the natural feel of drawing on a tablet. Manga Studio supports the Wacom line of multi-touch tablets, including the new Bamboo, Cintiq, and Intuos tablets.
Other new features:
New paint expressions: Manga Studio 5 has pen tools for natural drawings and various necessary brush tools for illustrations such as watercolor painting, oil painting, and animation style painting.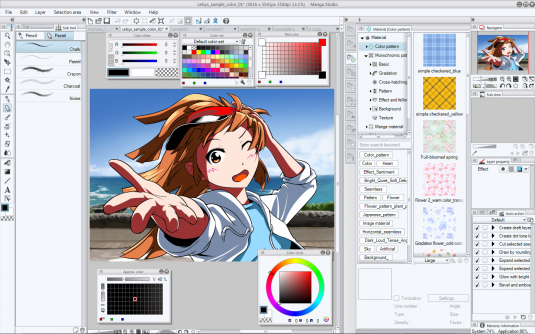 Customization: Users can customize brush shapes, canvas textures, and express drawing edges of watercolors. They can save their customized settings as original settings. Also, they can draw complicated pattern images easily, such as lace, chains, leaves and trees.
Natural pen touches: The updated pen pressure sensor allows more natural and real pen touches. Users can customize various settings based on their preferences, such as using "Correction" to correct distorted lines.
Screen tones: Tone function allows users to change painting areas to toned areas by tuning on the tone mode. They can also edit toned areas. In addition, they can distort toned areas along shapes of drawing subjects. The software ships with a library of pattern tones.
3D functions: This update supports the use of 3D characters in 3D background images, which help users bring added realism and depth to images. Various accessory data for each character is included, such as clothes, hairstyles, and facial expressions. Accessory data may be customized by users.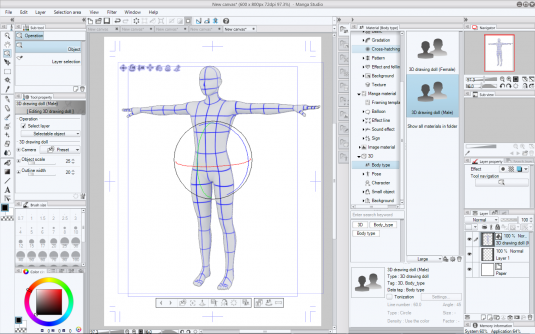 More screenshots follow. Larger versions of all the images in this article have been posted to the GraphicSpeak Facebook page.