The new intro 3D modeler joins light versions of SM's Studio products.
The time is right for 3D modeling and animation, or so several companies fervently believe. Among those companies is Smith Micro Software with Poser, the granddaddy of human modeling products and of 3D consumer products for that matter.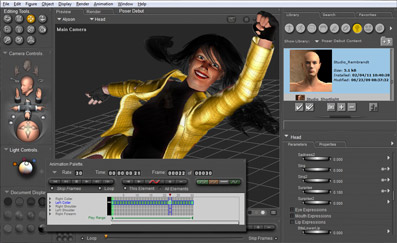 The company is investing in its content creation products including Manga Studio and Anime Studio. Poser enables people to build 3D character models for a variety of purposes—from professional to consumer, and the company has built out their consumer line with the introduction of Poser Debut for $45.99 this summer.
Based on the company's main product, Poser 8, Poser Debut is a simplified tool for creating 3D characters. The Debut version of Poser includes the base features but does not include Poser's Face, Cloth, Hair, Set-up, and Content rooms. There is minimal material editing, no manual rendering settings, and no Python support. The debut version of Poser follows successful introductions by Smith Micro of Debut versions of their mainstream products Manga Studio and Anime Studio.
Manga Studio and Anime Studio
As might be gathered from the names, Manga Studio and Anime Studio are tools to help people create comic books or cartoons in Japanese styles. These tools have a solid following of enthusiasts and Smith Micro hopes the Debut version will open the door to people who might like try the programs out. The company says they've gotten very good response from the Debut products and they're attracting new users including beginners.
Poser Debut is the same idea, except that 3D figures have an even higher level of entry for hobbyists because just creating a character is the first step, then you're probably going to want to do something with your character such as create a world, put them in a game, make a movie, etc. In a blog post introducing the Debut version, Poser product manager Steve Cooper says the Debut versions of Manga Studio and Anime Studio have been wildly successful. He says the Debut products are designed for the retail shelf (virtual or otherwise) at Amazon, Best Buy, and Apple, and they're designed to attract the attention of absolute beginners.
The Debut products have an upgrade path to the full versions as people become more adept and interested in doing more. Smith Micro is developing new training tools including in-app project guides and tutorial videos and this version comes with 2 GB of content including 72 figures, based on Poser's base figures Alyson and Ryan. Cooper says Debut is designed for users who might be intimidated by 3D, but who want to give it a try because they're game enthusiasts or they want to create their own movies. "If Poser Debut can follow in the footsteps of Manga Studio and Anime Studio's Debut products, then we'll have a winner on our hands and a slew of bright-eyed, enthusiastic new Poser fans in our midst."
What do we think?
Poser's largest customer base is among advanced hobbyists. There are professional users who use the product to create characters for animatics, or for walk-throughs, etc. but most like to create 3D—they're digital crafts people. The thinking is that there might be more of these people out there, if they had a better entry path. Smith Micro has some reason to hope. There is already an active sharing community within the Daz world. (Daz has related products that allow users to create characters, pose them, create environments, and share their creations in a large community.)
Another company from the game world, Image Metrics, is also aiming at this nascent market and it's looking at the 3D worlds that might emerge from social networking. They're also thinking that people might one day build their own avatars to use in familiar games. All this has yet to materialize but many believe new worlds are out there just waiting to be born.