Microsoft bills HoloLens as a "mixed reality" portal suitable for a new approach to design review.
Trimble has announced a new SketchUp viewer for Microsoft HoloLens. Trimble describes it as a "mixed-reality solution" for design and construction review. The new viewer is the first extensible commercial HoloLens application to be listed in the Windows Store.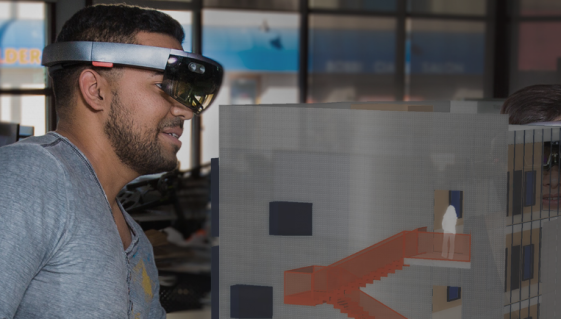 Noted tech-savvy architect Greg Lynn demonstrated the new viewer at this week's Trimble Dimensions user conference. He used a study of how to re-imagine the Packard Plant, a historic abandoned automobile factory in Detroit. The project was presented earlier this year in the US Pavilion at the 2016 Venice Biennale architecture exhibition.  
Using HoloLens, Lynn and others viewed SketchUp models as holograms placed into a  real world context. This "mixed reality" view, Lynn said, enabled them to quickly analyze various what-if design scenarios in the context of the physical environment.
Microsoft has been pitching its HoloLens head-mounted display as "mixed reality," a third alternative to complement virtual reality (VR) and augmented reality (AR). VR is an immersion experience; AR is an overlay of digital information onto an image of the real world. The HoloLens is a blending experience using holographic projection inside the display while keeping the outside world visible.  

What do we think?
SketchUp fills a unique niche in AEC. It is not considered a tech leader, and most offices that use it professionally also have AutoCAD, Revit, or other professional design applications. It is noted for ease of use and has become popular in construction documentation as an inexpensive and easy-to-learn alternative to AutoCAD. Bringing a mixed reality experience to AEC via the friendly SketchUp is a smart move.
We can see review teams using the SketchUp/HoloLens system for group review on both renovations and new construction, in group settings where all participants are free to examine the plans from any angle independent of other team member preferences. Trimble calls this approach "experiential design review." To those who participate in it, once they get used to the headsets it will probably feel like the most natural way yet to "get inside" design plans.