Highly sought after for his award-winning hand-drawn visualizations, Steve Oles is also an avid SketchUp user.
The team behind Trimble SketchUp takes pride in creating a 3D CAD product that is out of the ordinary. From its free 3D Warehouse (operated by former owner Google) and its free version SketchUp Make (on millions of computers) to its loyal fan base who gather yearly in Boulder, Colorado for 3D Base Camp, SketchUp feels like The People's CAD Software.
When SketchUp starts, it presents a drawing screen that includes a 3D component of a person, to help the user intuitively understand the current scale of the model. The model is always a real person, updated with every new release. Usually the person depicted is an employee, but for SketchUp 2015 the scale figure is not a SketchUp colleague but a beloved SketchUp user, Paul Stevenson ("Steve") Oles, FAIA.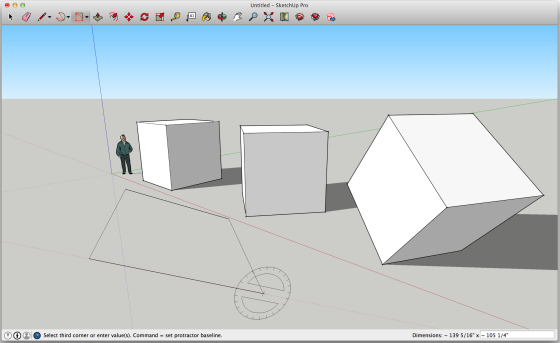 Oles has been a SketchUp user for several years, but his claim to fame is not his 3D drafting prowess. He is an award-winning architectural illustrator, where all of his work is done by hand, mostly in pencil. He has worked closely with I.M. Pei for many years, and is a winner of the noted Hugh Ferriss Memorial Prize. Oles is also co-founder of the American Society of Architectural Illustrators. He is author of the architectural reference book Architectural Illustration.
SketchUp users who take advantage of the Styles palette may be unknowingly familiar with Oles' work; he is the inspiration for the PSO series. Every year at 3D BaseCamp Oles teaches a class on hybrid drawing for architectural illustration.
"Steve has been a source of inspiration for our team for some time now," says SketchUp's Mark Harrison. "We decided it was about time to introduce our friend" to SketchUp users.