Custom orthotics allow disabled dog to run for the first time.
[Editor's Note: There is a link to a YouTube video about Derby at the end of the article.]
A New Hampshire dog born with deformed front legs is running for the first time, thanks to kindhearted humans who used 3D technology to create a novel set of doggy prosthetics.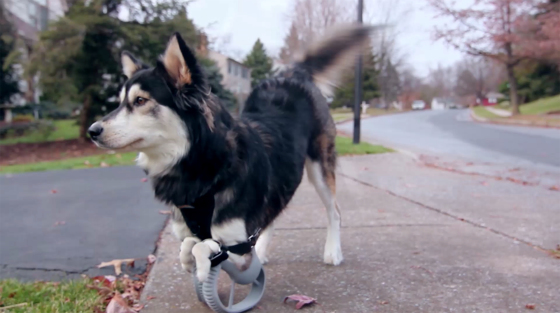 It all started when 3D Systems employee Tara Anderson, a volunteer with dog rescue group Peace and Paws in Hillsborough, N.H. met and became foster owner to Derby, a dog born with a congenital deformity characterized by small forearms and no front paws. While always cheerful, Derby was only able to get around on soft surfaces. Hard surfaces, like sidewalks, cause severe abrasions on his front extremities.
At first Anderson got a two-wheeled cart for Derby, but she saw limitations. "It limited his mobility in terms of being able to play with other dogs, and it's not really the full motion of running."
Anderson then recognized an opportunity to help the dog using the products and resources available at 3D Systems. She enlisted the support of Derrick Campana, a certified Orthotist at Animal Ortho Care in Chantilly, VA, and 3D Systems designers, Kevin Atkins and Dave DiPinto. They created 3D data from the shape of Derby's forearms and from a cup design created by Campana. Using Geomagic Freeform, they create the 3D design, taking advantage of Freeform's facility for designing using organic shapes and smooth curves.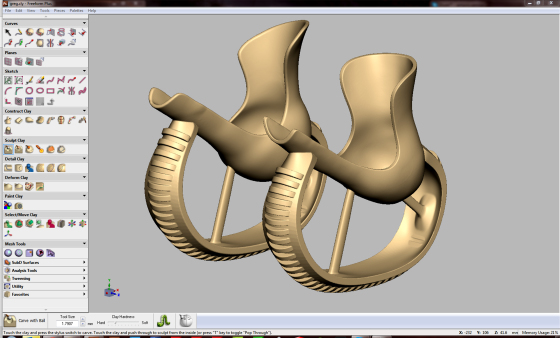 At first Anderson thought they would design prosthetics similar to the "running man" style of lower legs some human amputees are using, but then realized Derby might have problems with the blades digging into soft surfaces. "That's when we came up with the loop idea" for his feet, Anderson says.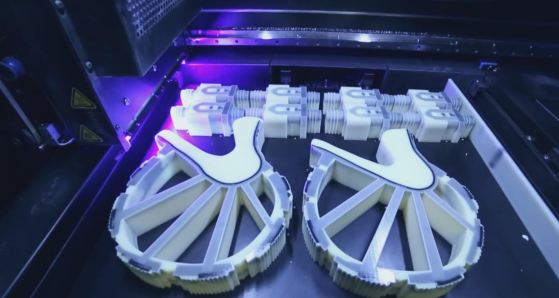 To print the prosthetics, Team Derby used the ProJet 5500X, which delivers multi-material 3D printing in a single build. Anderson and the designers could build complete prosthetics with comfortable cups in rubber and rigid spokes and base. Ready in a few hours, the prosthetics were shipped to Derby for testing.
"The great thing about using 3D technology in Derby's case is that having these images on file on a computer and being able to print them, is a lot quicker than having to hand-sculpt every single mold and rebuild these braces five or ten times," says Campana.
Through the power of 3D, Derby is now able to run alongside, and sometimes past, his newly adoptive owners, Sherri and Dom Portanova. "He runs with Sherri and I every day, at least two to three miles," said Dom Portanova. "When I saw him sprinting like that on his new legs it was just amazing."