A new rendering engine has been designed for power users on iPad Pro, but the technology ships to all users.
An update to Autodesk Sketchbook for iOS provides a new rendering and drawing engine that takes full advantage of the high-end iPad Pro and Apple Pencil, as well as providing benefits to users of all other iPhones and iPads.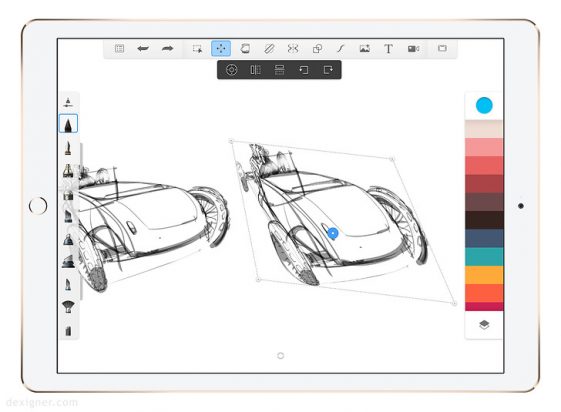 The new rendering ending in SketchBook 4 enables canvas sizes up to 100 megapixels, a "huge" undo stack, and nearly infinite layers  — depending on available memory. Autodesk says SketchBook 4 is a "faster and more responsive drawing experience on all 64-bit iOS devices (especially iPad Pro and Apple Pencil)" but will be available to all users on any iOS device. The new rendering engine also takes advantage of GPU acceleration available in newer iPads.
Other improvements in SketchBook 4 include:
A redesigned brush engine with brush texture and more than 60 new brushes;

Enhanced symmetry tools with 16-sector radial symmetry;

Algorithmic predictive stroke to create precise shapes, lines and curves;

New ruler and true ellipse guides;

Color adjustments for hue, saturation, and luminance with real-time preview;

Flip canvas, lock layer and an improved time lapse screen recording workflow;

UI updates including clean canvas with two-hand mode; a new marking menu; a quick-access toolbar; sliders for quick brush size; opacity adjustment on the brush menu; and customizable color swatches stored on the layer editor
Updates are available from the Apple App Store.
What do we think?
Autodesk created SketchBook by taking advantage of its popular professional sketching software for industrial design (commonly known as the Alias line after the company Autodesk acquired). The SketchBook team was a forerunner inside Autodesk, paving the way for the company's vast — and expensive — detour into consumer products. Autodesk is now in the process of selling off, consolidating, or otherwise severely cutting back the consumer division. But SketchBook won't be going anywhere; it has become a power tool in the hands of the creative class. Now that Apple has a mobile product worthy of high-end software (the iPad Pro), the market for a powerful, professional sketching app will only grow.