Moderate sales in the first quarter; the GPU industry is starting to gear up for Q3.
The new Jon Peddie Research quarterly market report on the GPU industry shows moderate sales in the first quarter of 2017, as what has been a volatile market returns to seasonal norms. Overall GPU shipments decreased seasonally and in year-over-year comparisons. This is typical for most parts of the larger computer hardware industry, where volumes are higher in the second and third quarters.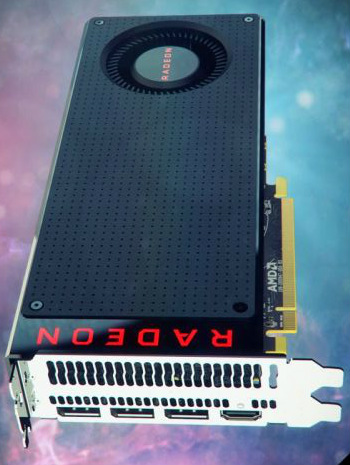 The GPU market is considered a leading indicator of how the larger computer market is doing. JPR says the enthusiasm for tablets has subsided, and the PC market seems to have stabilized as users realize a tablet is useful for a lot of things, but can never replace a PC for performance, screen size, or upgradability.
The first quarter is typically flat to down from the previous quarter in the seasonal cycles of the past. For 1Q17 the GPU market was down 17.5% from last quarter. Year-over-year the market was down 4.5%. Desktop graphics units sold dropped 13% while notebook graphics units increased 2% from 1Q16. The Gaming PC segment, where higher-end GPUs are used, was once again the bright spot in the overall PC market for the quarter. For several quarters Gaming has been keeping the GPU market above seasonal norms.
Results by vendor
There are three primary vendors of GPU technology: AMD, Intel, and Nvidia. AMD and Nvidia sell mostly discrete graphics units; Intel sells mostly integrated graphics units. Intel showed the highest gain in the quarter. A three-month running average shows discrete GPUs increasing in overall market share against integrated GPUs for the past two years.

In the first quarter of 2017 AMD overall unit shipments decreased 24.81% sequentially; Intel total shipments decreased 13.91% sequentially; and Nvidia unit shipments decreased 25.64%.
The attach rate of GPUs (includes integrated and discrete GPUs) to PCs for the quarter was 136% which was down 4.75% from last quarter. Discrete GPUs were in 31.36% of PCs, which is down 4.57%.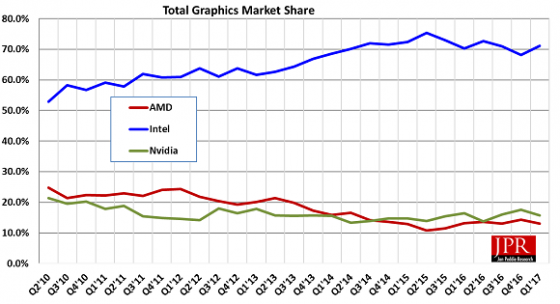 More information: http://jonpeddie.com/publications/market_watch/