Dell announces a new Precision workstation lineup on the back of Skylake-based Scalable Xeon
By Alex Herrera
Workstations and 3D graphics hardware don't hold the same status they used to at summer's annual convening of Siggraph, a conference today with more focus on computer graphics applications and productions than the underlying platform. If you remember (we certainly do), Siggraph in the 90's represented the epicenter of graphics and workstation hardware innovation, where heavy weights like SGI, HP, Sun would dominate both the paper sessions and the exhibition floor, competing tooth-and-nail for leadership in workstation and graphics performance. Siggraph today looks a lot different. Still, despite its toned down stature, hardware continues to have its place at Siggraph, and this year we see evidence of that heritage in major announcements from Dell, AMD and Nvidia, the trio (respectively) unveiling a major workstation refresh, a much-anticipated new GPU in Vega, and a host of new initiatives to further the GPU's reach in professional computing.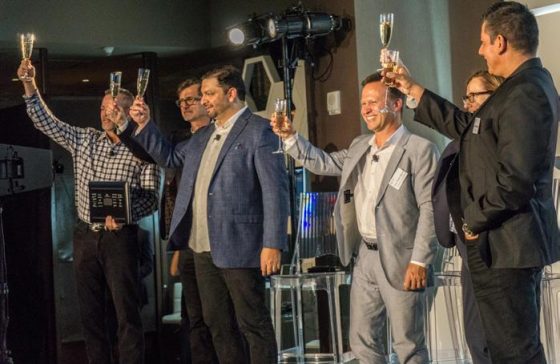 In today's far more mature workstation industry, it's no longer a conference like Siggraph that drives product cycles. Silicon is the driver now, specifically Intel's CPU silicon. Perhaps spurred on by a resurgent AMD, Intel is anxiously in the midst of ramping Xeon-class CPUs based on Skylake. Re-branded Xeon Scalable processors, this new family comprises what used to be referred to as Xeon E5 and Xeon E7 series, the former focused primarily on dual-socket servers (and secondarily dual-socket workstations) and the latter targeting 4-plus socket servers and HPC systems. Dell has refreshed its dual-socket (2S) Precision 7900 and 7800 series workstations, along with its premium single-socket (1S) model, the Precision 5800. Due for shipment in October, the company announced the Precision 7920, 7820, and 5820.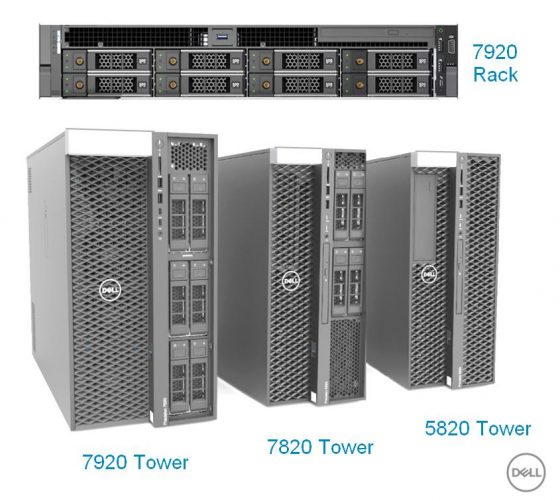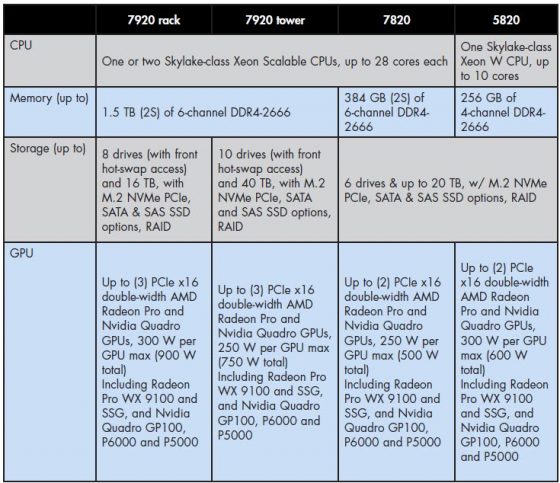 The move to Xeon Scalable branding was not a purely cosmetic one for Intel but came with one notable change: one, decoupling the sub-brand with the number of sockets supported, and two, linking the sub-brand with both frequency and core count metrics. With the E5 and E7, core count for particular SKUs was generally independent of socket number. That is, you could find SKUs with the maximum available core count (per generation) in E5 or E7. With the move to Xeon Scalable come four levels—Platinum, Gold, Silver, and Bronze—and lower levels limit the core counts available. For example, while Platinum tops out at 28, Silver maxes out at 10. The same goes for frequency, with Silver topping out at 3.0 GHz (currently). In order to flaunt support for those 28 core SKUs and offer maximum frequencies—critical for workstations—OEMs like Dell need to offer Gold and Platinum level Xeon Scalable SKUs.
Despite the redesign, Dell retained some of the Precision premium models' unique features. Most notably, that includes the company's modular FlexBay design that allows available chassis space to support a range of expansion options, several available via the front panel and hot-swappable. FlexBay will primarily support storage—hard discs and SSD with a variety of RAID-capable sizes and interfaces—but it can also be configured for other uses, like a professional audio module (via USB).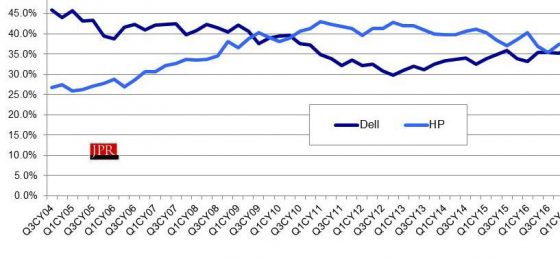 Beyond the new deskside Precision models, Dell had another reason to make some noise at Siggraph—the company is celebrating its 20th anniversary in workstations. It's a justifiable occasion to applaud, as Dell played a pivotal role in the evolution of the modern workstation, once it jumped into the market back in 1997. While the writing was already on the wall at the time, foretelling the eventual doom of the proprietary workstation platforms (like HP's PARISC, IBM's POWER, SGI's MIPS, and Sun's SPARC), Dell's entry into the market hastened that demise considerably. Along with the market entry of Nvidia's first workstation-focused Quadro GPU, Dell's line of "personal workstations" based on Intel CPUs and Microsoft Windows delivered a value proposition that the proprietary vendors simply couldn't match—early on with respect to price-performance and eventually in all-out performance as well.
Since the introduction of Dell's Precision line, the company has experienced an up-and-down history in the market or rather we should say "down and up." After shooting to the top position, Dell slowly, steadily relinquished share to HP, a company that remained highly committed to the marketplace, in contrast to Dell's apathetic posture in the 00's. However, with Michael Dell's move to privatize the company in 2012 came a sharpened and renewed focus on workstations. And ever since, Dell's been a formidable competitor, driving its share back up to rival HP's, leaving the two today in a virtual dead heat for market leadership.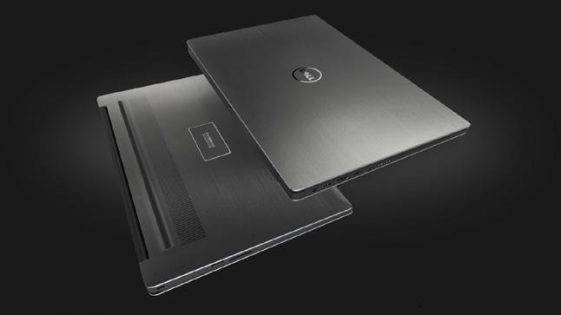 To mark the company's anniversary, Dell announced availability for a special Anniversary Edition of the company's existing Precision 5520 15.6 inch "thin 'n light" mobile workstation. While the guts of the Anniversary Edition aren't new, the packaging is, and that's more noteworthy. In the traditionally staid market for workstations, style has become a more significant differentiator, particularly in mobiles. Pressured by the need to find new angles to spur growth, as well as attempt to lure over buyers more likely to default to an Apple Mac- Book Pro, workstation vendors have been more focused on aesthetics, as evidenced by machines like the Anniversary Edition Precision 5520. Dell says this model, like the special "Covet" editions the company has pitched in the past, are limited in number. But while this model may be gone shortly, its attention to looks and its appeal to status is an attribute we're likely to see more and more of in the workstation industry moving forward.
Dell is the only vendor with a new set of Xeon Scalable workstations based on Skylake, but it certainly won't be the only one. HP and Lenovo, Dell's primary rivals in the market, tend to be a bit more conservative when it comes to announcements, but both will surely be at the ready come Q4, most likely right in sync with Dell's machines.