Conventional Metrics says second quarter results point to a third straight year of losses. New Metrics says things are great.
New Autodesk CEO Andrew Anagnost reported his company's financial results for the second quarter of fiscal 2018 last week. There are two ways to tell this story; with Conventional Metrics (which we use) or New Metrics (which Anagnost used). Conventional Metrics means reporting results using Generally Accepted Accounting Principles (GAAP). New Metrics means reporting using Autodesk' interpretation of where revenue is coming from and how it is recorded on their books.
Here is the Conventional Metrics summary: Autodesk revenue was $501.8 million in the second quarter of Fiscal 2018 (ended July 31, 2017), down 9% from the same quarter one year ago. There was a net loss in the quarter of $144 million, almost 50% larger than the loss reported a year ago. This quarter's loss makes it nine quarters in a row the company reported a net loss.
Here is the New Metrics summary: Autodesk Annualized Recurring Revenue (ARR)  in the second quarter was $784 million, up a whopping 94% from the same quarter one year ago. Total ARR is now $1.83 billion, up 21% compared to the second quarter of last year.
The following Conventional Metrics chart shows revenue and net profit or loss for 17 quarters.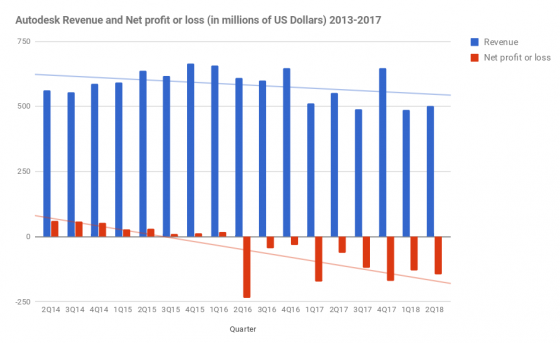 If you are confused, get used to it. Anagnost is largely regarded as the architect of Autodesk's business model transition, and he was promoted to the hot seat by the board of directors over product-oriented Amar Hanspal and others. Anagnost defends the Subscription business model fiercely, with a level of wonkish detail that previous CEO Carl Bass never ventured into during his tenure. Anagnost used a new acronym in his first quarterly presentation, "M2S." It means Maintenance to Subscription, and he used it 20 times. For good measure he used the New Metrics standby "ARR" 19 times. To understand what we are facing in the New Metrics, read the following paragraph, verbatim from Anagnost's results presentation for Wall Street analysts (transcript courtesy Seeking Alpha), with my attempt to simplify embedded in brackets.
As we have said in the past, we expect to see ongoing declines in maintenance plan subscriptions and the rate of decline will vary on the number of maintenance plan subscriptions that come up for renewal, the renewal rate and pace of the M2S program. [In the future, we expect fewer customers to buy Maintenance plans and more customers to buy Subscriptions.] A little more than half of the decline in maintenance subs was a result of fast start to the M2S program. [We put Subscriptions on sale toward the end of the quarter; we think half of the people who ended Maintenance agreements started new Subscriptions.] In fact, nearly a quarter of all maintenance renewal opportunities migrated to subscription. [Did I say half? It was really one quarter of the customers who ended a maintenance plan who signed up for a subscription.] Of those that migrated nearly 10% upgraded from an individual product to higher value industry collections. [10% of the customers who moved from maintenance plans to subscriptions also went from a single-product purchase to a set of related products sold as a bundle we call a Collection.] M2S is yielding some early data that is very encouraging and very interesting. [The future is rosy, even though this quarter only 2.5% of eligible accounts upgraded to Subscriptions and Collections.]
Over and over Autodesk tells us, "During Autodesk's business model transition, revenue is negatively impacted as more revenue is recognized ratably rather than up front and as new offerings generally have a lower initial purchase price."  But no one suspected Autodesk would go into year number three of New Metrics posting losses quarter after quarter.
Here are some more numbers from the quarter, using Conventional Metrics:
Revenue by Regions:
Americas, $214 million, down 7%

EMEA, $199 million, down 10%

Asia Pacific, $100 million, down 11%
Revenue by Product Family:
AEC, $209 million, down 17%

Manufacturing, $147 million, down 16%

AutoCAD and AutoCAD LT, $97 million, up 32%

Media & Entertainment, $38 million, up 11%

Other, $12 million, down 7%
What do we think?
The economy is strong, construction is on the upswing, and yet Autodesk's best results come from some of its oldest technology, the AutoCAD group and the Media & Entertainment portfolio. What's wrong with this picture?