The HP Omen line is for committed gamers, and we are tempted to ask, is there any other kind?
HP segments the gamer community into three categories: mainstream, performance, and enthusiast and they line up about how you'd expect, mostly male and mostly young. The large mainstream gamer group, tends to be younger, more cost conscious. They buy OEM machines to use for gaming as well as other tasks. Performance gamers are also young, also cost-conscious but they are slightly more likely to build their own systems. The top 5% of gamers are enthusiasts, almost half of them build their own computers and they're able to afford better gear.
HP is going for the enthusiasts and the top tear of performance fans with its latest Omen X laptop, which puts the latest Intel processors to work and adds new features for power and cooling.
HP already threw down with the snazzy Omen desktop tower and a polished Omen X Compact Desktop that sits in a docking station or slips neatly into a backpack for walkaround apps, most of which are currently professional rather than gaming.
The Omen X Compact desktop has a lighter design. It's more ergonomic for wearing and the design directs airflow away from the wearer's back so the backpack doesn't get too warm. At that release HP also showed off new tower, luxurious headphones, and a GPU enclosure to beef up the mom-PC when it's gaming time.
But, we're here now to talk about HP's first Omen X laptop. HP has distinguished itself in both thermal design and enabling modularity in small spaces and that expertise is evident in the company's all-in-one workstations and the HP Z2 Mini compact workstation. And HP has taken that design philosophy to this gamers laptop.
It's all about gaming
The Omen X gaming laptop is a worthy companion to the Omen X desktop. Mike Nash, Chief Technolo­gist and Vice President of Customer Experience, Personal Systems, at HP Inc. says their brand new baby delivers uncompromised gaming, anywhere. It's built as a response to the crazy rise of ESports in gaming and HP is sponsor­ing several teams worldwide including the Immortals, RNG, and Vitality.
Nash also says the Omen X lap­top design has been refined from what they've learned from previous Omen gaming machines. Overclocking is a must, but so is thermal engineering and this new laptop also sports lighting ef­fects for the keyboard. The display is a fast refresh 1080p, 120 Hz refresh sup­porting Nvidia Gsync. It's accessible and has an enhanced thermal multi-heat pipe design that funnels heat away from the processors. More important says Nash, the laptap is upgradable, "crafted for gaming expansion."
On the software side, HP offers the Omen Command Center which enables users to tune and push hardware includ­ing CPU and RAM overclocking. One of the nicer features is the ability to move gaming apps to the front of the cue for network traffic to reduce latency for online games.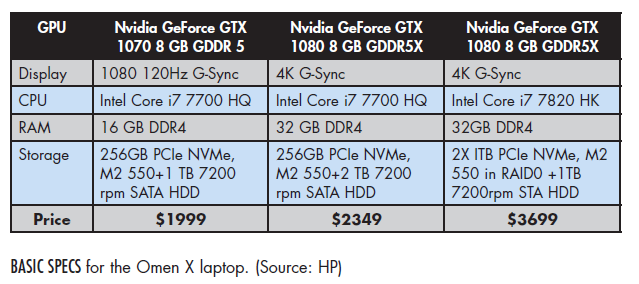 HP's Mike Nash says people traditionally use the BIOS to overclock, but the Command Center opens up this ability to safely overclock to everyone. Players test their systems to see which variables make the most difference. They can play off the differences between fast refresh, gameplay, etc. All configurations support VR.
As for the snazzy light up keyboard—it can be customized to highlight gaming controls and to customize per game. HP says they are very proud of the keyboard. It's mechanical with a satisfying clicky feel and 2.5 mm travel. Nash claims to be especially proud of the keyboard, which, even though it feels like a full size keyboard, fits into a compact chassis. HP has enabled N-key rollover for all the keys meaning every key press is recognized even when keys are pressed at the same time, as happens from time to time with gamers. Likewise, it has an oversized space bar to avoid missed keypresses.
HP is going Intel all the way for the first Omen X. It features an Intel i7 unlocked core, XMP memory options for memory overclocking and offers up to 32 GB GDDR 4 RAM. The company is also going with Nvidia and the GTX 1080 with GDDR 5 touting its ability to offer 4K gaming, if you want that sort of thing.
The machine features RAID 0 SSD, which provides fast boot and game loading. There is also PCIe SSD+HDD storage options.
HP has removed the optical drives to make way for fans. The system includes an array of vent holes, and heat pads to improve heat transfer from GPU and CPU to the four corners of the machine, which again reminds us of the Z2 Mini. The back panel is connected with Phillips head screws so no need to wander around for the special screw driver. The system has plenty of ports to support multi-display configurations including 3 USB 3 ports 2 Thunderbold 3 Typc C ports, HDMI, a mini-display port, rj45, and a multiformat card reader. It also sports a headset jack for gaming headsets or external speakers.
A word about sound. The Omen X laptop feature DTX headphone X for simulated sound with any headsest and also support for external speakers from HP with audio by Bang & Olufsen. HP has Audio Boost to volume just short of speaker overload.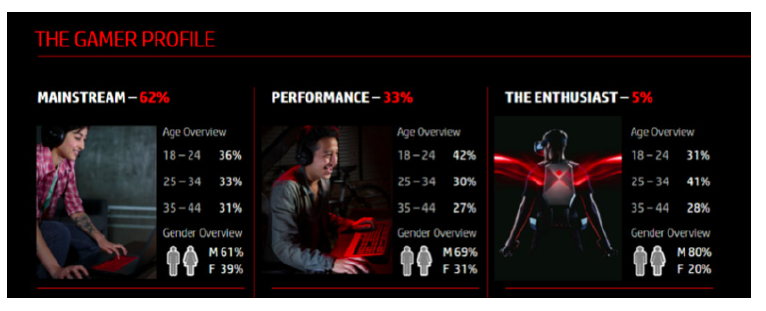 Here's a spec that doesn't pop right up to the top of the list. This baby weighs in the neighborhood of 10.6 lbs. You'll be lugging it to tournaments, but HP is hoping you'll find it worth it for the performance. The weight is the price that comes with heat pipes and fans, etc.
What do we think?
It's hard not to get all het up writing about a machine like this, even though it is certainly not for everyone and HP is targeting that 5%+ of lunatic gamers. HP was asked about adding a Ryzen option but HP gave the old "we don't comment on future products" answer with the qualification that HP has used AMD in its Omen Tower product and Nash says AMD will turn up in other products, but he was not interested in going beyond that hint in the press call Guess he didn't think it necessary to mention AlienWare has Threadripper all locked up for the year.