At a recent conference for analysts, executive from Siemens PLM debuted new technology, talked up recent big customer wins, and wondered out loud about the future of their largest rival.
By Kathleen Maher
Siemens PLM Software says its new HD-PLM technology will tighten the link between all the data associated with a design product and the design itself. Heads-up controls in a model enable users to see there is additional data associated with a model and access it all while keeping on task. Executives told analysts at a recent event in Boston that NX HD-PLM will ship in December and the company clearly sees this release as an important milestone in the evolution of Siemens PLM.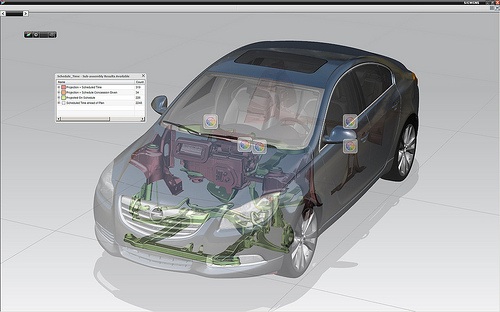 For almost a decade it seems the emphasis has been on the data side of the PLM equation. HD-PLM puts the design back at the center of the process. Indeed, the shift in emphasis has been happening ever since the enterprise-focused companies have combined data management tools with design. Siemens PLM believes they have an advantage over arch-competitor Dassault Systemes on a number of fronts in this regard. Siemens PLM Synchronous Technology has been integrated throughout its NX and Solid Edge product lines and HD-PLM is on the way. Dassault is still working its move to a consolidated engine for SolidWorks and CATIA, and is talking about a move to the cloud. Although, Dassault has been able to make many of their grand schemes work and retain their customers, Siemens PLM maintains that it is getting shakier for the company.
At this year's Siemens PLM Analyst event, Siemens repeatedly brought up their design win with medical equipment manufacturer Helena Laboratories. The company has adopted Siemens PLM Solid Edge mid-range CAD out of fear that Dassault's plans to change engines, moving from the Parasolid engine—which is Siemens PLM technology—to Dassault's own CGM engine, which lives inside CATIA. Dassault has not said exactly what it's going to do or how it's going to do it. They have announced that SolidWorks is getting a complete rewrite. Helena execs thought it best to make the move now.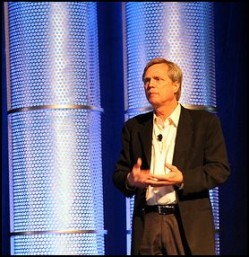 Siemens PLM NX HD-PLM design tool ties the design and data together in a way that allows all the people involved in a project to query and understand context directly from the model. As Siemens PLM gets ready for HD-PLM, the company is restructuring; the shuffle will be complete on October 1st. The company is reorganizing itself around key industries. Siemens PLM President Chuck Grindstaff told analysts the company is looking at several key trends including sustainability, innovation, safety, information integration, quality, and globalization and then they're looking at their target industries and mapping them to these trends—things don't play out the same for all industries.
Siemens PLM key industries are identified as Automotive and Transportation, High Tech & Electronics, Heavy Equipment Machinery, Aerospace & Defense, Retail, Shipbuilding, Energy, and Consumer Packaged Goods. The company intends to use this thinking to guide their development process.
CEO Tony Affuso told the audience that a motto of Werner von Siemens was "I won't sell the future for short term profit." Affuso says that Siemens PLM lives this maxim with another motto: "Never let a customer fail." That means the company is committed to open systems and best-of-breed answers to problems if that's what the customer wants. And, that is what many customers want—the ability to choose the tools they like best.
But, that doesn't mean the company isn't full-bore bent on snatching customers away from its biggest competitors, Dassault and PTC. Affuso is especially proud of the company's Teamcenter win with General Motors. He said, "We threw everything we had at it, and so did Dassault. They'd like nothing more than to take GM away from us."
In practical terms, Siemens has been working on a long-term plan to integrate the components of its Industry organization, a $47 billion division of Siemens that includes the businesses of Siemens PLM: NX CAD design tools, Tecnomatic factory automation, Teamcenter PLM, and Solid Edge mainstream CAD. Overall, the industry segment provides production, transportation, lighting, and building technologies. The division has hardware and software, industry specific products. Siemens PLM is the glue that holds it all together. There is potential for growth as Siemens PLM offers its tools to the larger Siemens customer base and improves the services it can provide to companies which are relying on competitors' tools.
Adding it all up
So, what's it all add up to? Siemens PLM, along with all the other CAD companies, flatly reject the idea that the CAD market is saturated and the only opportunity is to steal customers from each other. But, none of them deny that stealing one another's customers is an important business tactic. Momentum is important. The battle is on between Dassault and Siemens PLM because the two companies have similar ambitions and product offers. Siemens PLM smells blood in the water as Dassault attempts align its products. Both companies have a broad vision for their PLM technologies and hope to push it out to broader industries.
To grossly over-simplify, Siemens PLM has an edge in factory automation, Dassault has an edge in retail.