Despite recent events, the HP team put on a good show, with several products that will do well in the market.
By Kathleen Maher and Jon Peddie
HP recently met with press and analysts to show off the latest line of products in its Personal Systems Group. At the time—a long, long two weeks ago—the HP people were a touch down-hearted but they were proud of the new all-in-ones, snazzy new monitors, displays for signage, and living room multi-media add-ons, which further separates HP from the pack.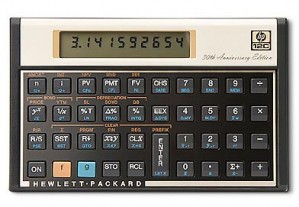 HP took over San Francisco's swank St. Regis Hotel to show off its new line for the fall and holiday buying season. To highlight HP's legacy of engineering and creativity, the company has announced it will ship a commemorative version of its long-running HP 12c calculator, which is 30 years old and still in use today. The commemorative version will feature a unique production number etched on the back and will cost $79. The original was priced at $100 at its introduction. HP had planned this grand introduction before now-ex CEO Leo Apotheker had announced plans to spin off HP's Personal Systems Group, its PC division. Now, it's possible the calculators will outlast the HP brand on computers.
Still, the team is upbeat, like orphans hoping they wind up in a great new home and in fact, they're thinking the strong new line of products they have might help them sell themselves. The emphasis is on all-in-ones. HP has rolled out a wide range of all-in-ones for home and business. The company is getting ready for Windows 8 with its multi-touch support and they're responding to customer demand. We were told that sales of all-in-ones have grown even as customers held off on buying laptops and desktops. HP quotes the NPD group, which says 34% of consumer desktop purchases in the month of July were all-in-one PCs. The company sees clear interest in the consumer market but business is also opting for the machines because they are compact and uncluttered.
The new computers come in high-end models and entry-level for business and consumer. The TouchSmart 320, 420, and 520 PCs feature tiling displays to make it more comfortable to touch or to read, depending on the task. HP has continued to create specially built applications for their all-in-ones and the latest build-for-touch apps include new Twitter and Facebook apps and kid-pleasing comics and cartoons from Marvel and the Cartoon Network. HP is also supporting the use of the all-in-ones in the house as entertainment devices.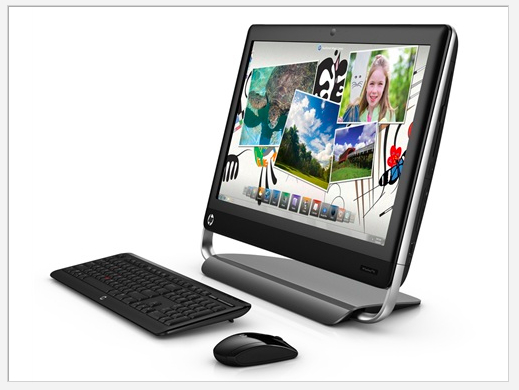 The 520 and 610 models feature technology from Beats Audio. HP's LinkUP technology enables wireless connections and syncing between computers. In addition, HP is offering a Pulse Subwoofer for the Beats enabled machines. The HP 320 starts at $599 and the 420 and 520 sell for $699 and $899. For the entry level HP is offering the Omni 120 and 220; these machines don't have the tilting displays but they do support LinkUP, they have built in speakers, and some support Beats Audio. The HP Omni 120 starts at $399 and the 220 comes in at $799.
For business, HP is offering the TouchSmart Elite 7320. The machine includes 8 GB of DDR memory and 2 TB of hard drive space. It too offers Beats Audio—because working people like to rock out or they might just need audio in their jobs. If so it might as well be good audio. The screen size is 21.5 inches and it is available with i3, i5, and i7 Intel processors. This machine features a tilting screen; it will start at $850.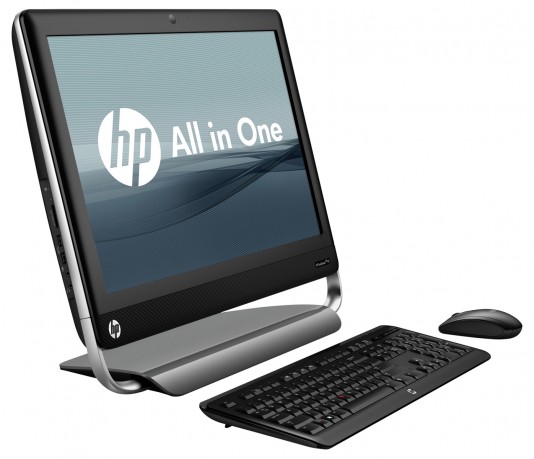 Down the line comes the 3420, a 20-inch model with i3 processors. It also has 8 GB of DDR memory and 2 TB of hard drive. It will start at $599. It's not a touch and it doesn't tilt.
On the industrial side, HP's Houston team has updated their DigitalSignage player line with the mp8200. In addition to looping and slideshows, the new machine enables interactive content, it supports Flash animations , RSS feeds, and HP offers templates to help companies create their own signs for menus, in-store promotions, lobby signage and infotainment. The Signage Player starts at $879. It looks really nice with either HP's new 42 inch and 47 inch LCD displays (LD4220, LD4720) with multi-touch. They include infrared light-emitting diots and photo sensors for receptive touch. The screens' connectivity options include HDMI, DVI, GBA, and DisplayPort. They're available for $2,599 for the 42-inch model and $3,199 for the 47-inch model.
HP has come out with a new line of beautiful and affordable monitors ranging from 20- to 27-inches and starting at under $200 with a high-res in-plane switching screen (IPS). IPS monitors provide wider viewing angles and cover a higher percentage of the sRGB color space than conventional twisted nematic (TN) LCDs, so they appeal to more professional users, who may require more accurate visuals.
The monitors have 1000:1 contrast ratio and wide color gamut offering up to 1 billion colors. They can be run in portrait or landscape mode, have DP, DVI, and VGA connectors. The ZR2240w and ZR2440w also have HDMI, and they're all Energy Star certified.