The module supports the 8D quality control method.
Siemens PLM has release a new quality management solution for issue management and CAPA (Corrective and Preventive Action) for its Teamcenter PLM portfolio. The new software provides visibility into quality management processes for faster time-to-closure of quality issues. Siemens says it is also designed to reveal root-cause identification, correction, prevention and verification, all of which can directly impacts the risk of recurrence.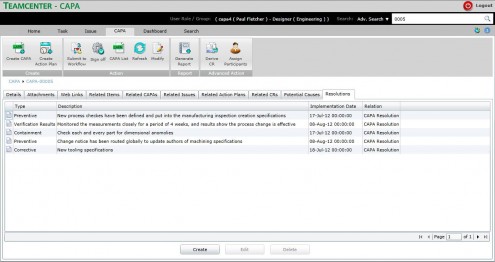 The new solution supports "Eight Disciplines Problem Solving" (also known as 8D), a method used to approach and resolve problems, typically employed by quality engineers.
Formal CAPA activities which focus on the investigation of discrepancies (customer complaints, defects, failures, etc.) in an attempt to permanently solve root causes and prevent recurrence are a widely used process for ensuring the quality and safety of products. When issues arise, time-to-closure is critical. Until the issue's root-cause is identified, corrected, validated and closed, manufacturers must spend time and effort on workarounds, repairs and rework. Even when issues are detected internally, they have a significant impact on manufacturing productivity. This situation worsens when issues are detected post-production by customers or regulatory bodies, potentially creating a liability and impacting customer satisfaction.
Siemens says the Teamcenter solution is available immediately.
Our take
Despite the rise of PLM in manufacturing, quality management often remains an informal or inconsistent process outside the PLM environment. Having a quality management solution in Teamcenter, the leading PLM brand by seat count, will give many manufacturing firms new insights and increased automation for maintaining quality throughout the manufacturing process.