Are consumers and businesses waiting for Windows 8 or a better economy?
By Jon Peddie
Believe it or not, we've been track­ing graphics add-in boards (AIB) shipments quarterly for 25 years—that's a lot of AIBs under the bridge. The volume of those boards peaked in 1999. Due to the internet bubble pop­ping, the worldwide economic melt­down, and more recently, floods, shipments never re­covered. AIBs have been on a slow slope downward in volume.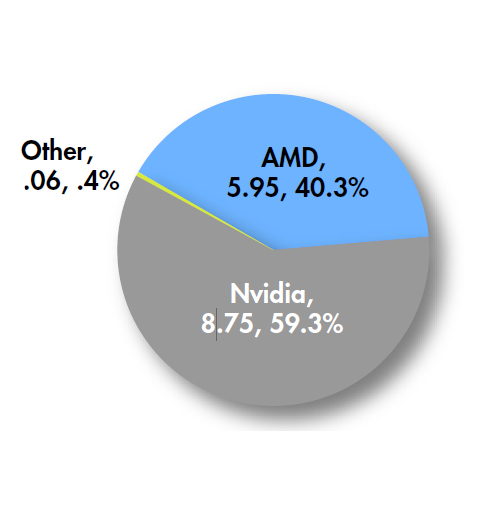 Desktop systems have slowed in growth because of the popu­larity of notebooks. They will decline over time to a specialty class device, used by digital content developers, designers, engineers, architects, simulation and visualization users, and high-end gamers. Those users will want, and need, the biggest, fastest most powerful GPUs possible, and to run them they will need more cooling and power supply than can be put in a notebook. As the volume goes down, it's conceivable that big stand-alone discrete GPUs just won't get de­signed, and instead mobile GPUs will be ganged up. That will still need more power, space, and cooling than can be realized in a notebook.
We found that AIB shipments during the second quarter of 2012 did behave accord­ing to past years with regard to seasonality, but unit shipments were lower on a year-to-year comparison and on a quarter-to-quarter comparison for the current quarter. Overall, for the AIB, and the PC market in general, 2012 has had, and is fore­casted to have, a decline in shipments.
The quarter in general
Total AIB shipments decreased this quarter from the previous quarter by 6.5% to 14.8 million units. Nvidia holds a dominant market share position at 59%; however, AMD's AIBs gained ground this quarter, end­ing up with 5.95 million units com­pared to Nvidia's 8.75 million.
Year-to-year this quarter AIB ship­ments were down 7.1% from 15.9 million to 14.8 million units. Just over 87 million PCs shipped worldwide in the quarter, a decrease of 1.5% compared to the previous quarter, (based on an average of re­ports from Dataquest, IDC, and HSI).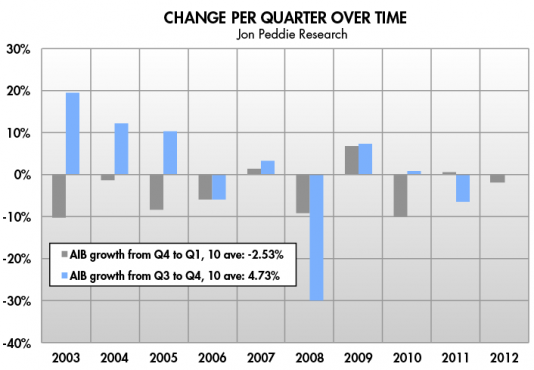 Normally, the second quarter is down, and this year's quarter was no different, but the decline is less than the 10-year average. However, this is just one quarter in a very turbulent year so we can't use this quarter as a predic­tion of the future because the world­wide economic conditions are just too uncertain. The change from quarter to quarter is less than last year.
The ten-year average change for AIBs in the second quarter is -11.3%; this year it was lower at 6.5%. In the past the second quarter was slow as the channel and OEMs emptied out inventory in preparation for the third-quarter re-stocking, which was a preparation for the fourth-quar­ter holiday season. The combination of online buying, faster manufacturing cycles, lower inventory levels, and a chaotic worldwide economic condition has thrown all those traditions out the window.
AMD introduced the new Radeon HD7000 series early in the quarter and as a result picked up market share. There haven't been any new games or applications to really take advantage of these new products, and so sales have been due more to replacements than driven by demand from applications. We don't see this changing in the near future and are very disappointed with the game developers. Those developers are too busy trying to figure out free-to-play and massive multi-player online games, and whether to develop for a console or a PC first. So while they dith­er, the market stagnates.

Nvidia got off to a slow start in Q2 and cited supply constraint as the main reasons for the decline. However, they still shipped more parts than AMD did. AMD did not complain about supply constraints.
Embedded graphics processors at first were simply replacing integrated chipsets and not having a major impact on AIBs. However, the new embedded graphics processor from AMD, the A10 (Trinity), has shown very good perfor­mance, and they have replaced entry-level AIBs.
Year to year for the quarter, the mar­ket decreased. Shipments decreased to 14.8 million units, down 1.1 million units from this quarter last year. The desktop AIB segments decreased in the low end, which we think is to be ex­pected as embedded graphics processors satisfy the requirements of a market with no new or interesting applications or games—as long as Moore's law is working and the software developers are complacent, the embedded proces­sors will do well.
The big picture
The overall market for AIBs is on a steady decline, because of better em­bedded graphics and a lack of challeng­ing software applications to exploit the GPUs' power, the incursion of tablets on the low end, and the shift from desk­top machines to notebooks. Overall the GPU attach rate to PCs remains about the same, just moving to notebooks.
The second quarter was pretty rough for the PC industry. Dell and HP reported de­clines in their quarterly PC sales, and neither company provided a very rosy forecast. Naturally, their share prices took a big hit. IDC piled on by lowering its forecast, saying it expected PC mar­ket growth of just 0.9% this year. Then, IHS downgraded its forecast for 2012 chip sales.
Trying to find a sliver of hope, most people are looking to the release of Win­dows 8 to excite consumers into buy­ing an Ultrabook. That's based on the assumption that people are holding off on buying PCs until Microsoft launches its new Windows 8. Actually, we don't think Windows 8's arrival is likely to boost sales.
Have you tried Windows 8 Metro? It's difficult to use, the learning curve is going to be very hard while people try to find familiar stuff, and it's not intui­tive at all. And what do you get for that pain? What exactly does Windows 8 bring to the party besides a pretty open­ing screen?
We think the return rate is going to be very high in the first 90 days. And, obviously, business is going to hold off until becomes clear Windows 8 is hardened into a practical system for office work. Let's not forget the Vista experience, and Windows 7 is working pretty darn well right now.
The U.S. economy appears to be pinned between recession and recovery, and it may be some time before we see serious momentum.
[Editor's note: The Jon Peddie Re­search AIB Report is available now in both electronic and hard copy editions, and sells for $1,500. Included with this report is an Excel workbook with the data used to create the charts, the charts themselves, and supplemental information. The annual subscription price for JPR's AIB report is $4,000 and includes four quarterly issues. Full subscribers to JPR services receive TechWatch (the company's bi-weekly report) and are eli­gible for a 10% discount. Bundle pack­ages are also available. For information about purchasing the AIB Report, call 415/435-9368 or visit the Jon Peddie Research website at www.jonpeddie. com.]