Like its iOS counterpart, the free Autodesk app tests impact of motion behavior in mechanical systems with moving parts.
Autodesk has released ForceEffect Motion to the Android platform, extending the reach of the free engineering conceptual simulation tool beyond Apple iOS devices.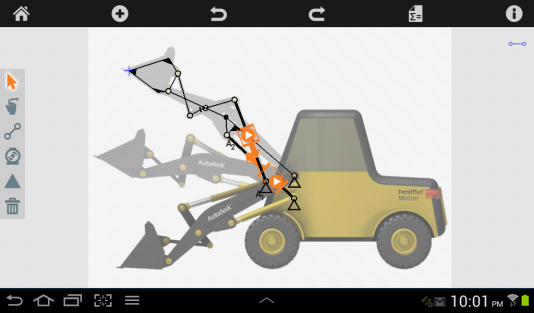 ForceEffect Motion (FFM) is designed to simplify the process of early design of moving parts, by providing a simulation environment to study the validity of design options. ForceEffect Motion does all the calculation work, allowing the user to focus on form and function.
Features:
Feedback: Real-time solving provides visual feedback, while reports can be generated for email, printing, or viewing on any HTML-enabled browser.
Engineering variety: FFM provides solutions to statically determinate and over-constrained or indeterminate engineering problems.
Connections: FFM can output results via Autodesk's DXF format for continued work in CAD products supporting the format; FFE also support working with Autodesk 360 cloud solutions.
Object creation: FFM allows freehand sketching of elements and construction lines, using snaps, constraints, inferencing, and dimensions. Images may be imported and manipulated. Functional mechanical joints (welded, pinned, sliding, collar, and crossing) are built-in.
Movement: FFM offers mechanical animation and functional drag, trace points, actuators (motors, linear) and interactive graphing of trace paths and velocity vectors.
The free app is now available at the Google Play store.