RevUp Render, based in Alexandria, VA is offering cloud-based rendering services using Nvidia's RealityServer and Mental Images iRay GPU-based rendering program.
RevUp Render offers cloud-based rendering. The company's legacy is in serving Autodesk Revit customers. It developed rendering services out of frustration with problems they experienced rendering Revit files. Its latest products let customers work in their home programs; it supports AutoCAD, Revit, Inventor, NavisWorks, SolidWorks, McNeel Rhino 3D, and Bentley MicroStation among other products. Customers upload their model to the RevUp system where they can set the system rendering. They can then they go back to working on their base system while RevUp works on the model. RevUp has just introduced their newest cloud-based system called the RevUpVCS 3.0 which was built with RenderStream of Austin, Texas.
The RevUpVCS 3.0 is a Windows 7 64-bit system built on 2 Xeon Westmere 3.0 GHz processors, it has 32GB of DDR3 RAM and uses up to 8 Nvidia Quadro 4000 graphics cards. Customers sending models to render in the RevUp cloud can have access to as many as 10 RevUpVCS 3.0 systems. The RevUp RealityServer integrates technology from miGenius to offer an interface with unrestricted camera controls and it supports unlimited simultaneous users so that they can share photorealistic 3D models and environments in real time. Ry Bruscoe is the founder and president of RevUp Render. He says one of the key advantages of the system, in addition to the ability to render without tying up local systems, is the ability to maintain the connection between the working models and the rendered images for a true BIM workflow. "Beautiful architectural illustrations and renderings were previously disconnected from the construction project data,"said Bruscoe. His system allows customers to "realize the vision of any construction project functionally and aesthetically at the same time."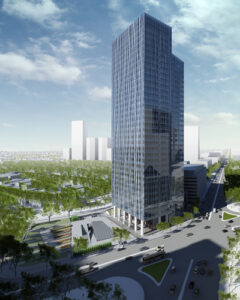 The company charges clients by the hour and offers a certain amount of free time in addition to the package. RevUp has created a video to demonstrate the system in action.
What do we think?
There is an ecosystem springing up around cloud-based services that take advantage of Nvidia's Mental Images resources including RealityServer, iRay, and its CUDA tools. In addition to the RevUp Render system, MiGenius, which was founded to take advantage of RealityServer and CUDA,  enables other companies to build a system that can take advantage of RealityServer. We're also seeing new resources coming up for OpenCL development as well as CUDA development. RenderStream, which provided the servers for the RevUp Render system is also building OpenCL products using AMD's Radeon processors, and they're reporting good results in early tests. – K.M.