Kepler-generation GPU power reaches to the Mainstream and Performance markets.
By Robert Dow and Harrison Gorvy
Nvidia rounded out their Kepler line of GPU add-in graphics boards last week with the introduction of the GeForce GTX 660 and the GeForce GTX 650.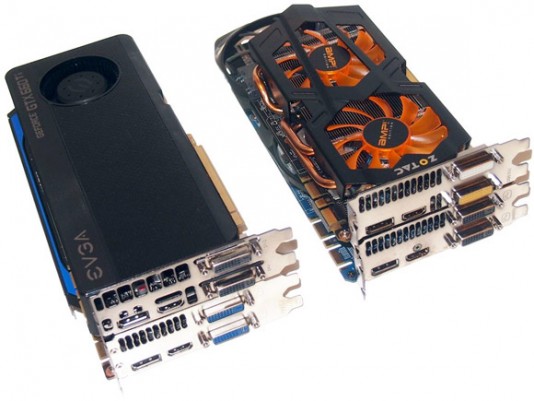 Nvidia controls 59.3% of the Desktop Graphic Add-In Board Market with its partners shipping over 8.75 Million units in Q2. Although the Enthusiast segment always garners most of the headlines due to the cutting edge technology, gaudy frame rates, and landmark prices the Enthusiast Segment only represents 4.7% of the market. The Mainstream and Performance segments consist of over 88% of the market and therefore are the real sweet spot for AIB manufactures.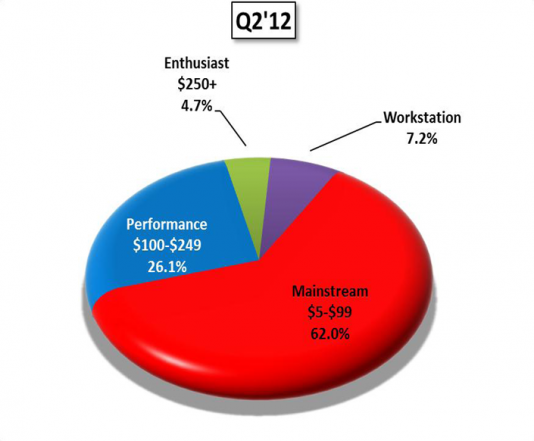 The PC gaming hardware market, which was facing an uphill battle in years past against the X-Box 360 and PS3 is now gaining more and more traction. The popular game site Steam is averaging over 1 million visitors a day. JPR gaming analyst Ted Pollack forecasts a 10% compound annual growth rate for hardware expenditures through 2015. The PC gaming industry is looking up with software vendors finally catching up to the hardware technology. Fall releases such as Assassin's Creed III and Call of Duty Black Ops will undoubtedly force late adopters into the DirectX 11 market. As of now a majority of PC gamers still have not upgraded to AIBs that can run DirectX 11. If you are still holding onto a DirectX 10 card it obviously means you are not an early adapter and therefore looking for a mainstream card in the mainstream price range.
PC Gaming is once again gaining in popularity, and a main driving force for the purchase and upgrade of a graphics add-In board, however, video editing, photo editing, music mixing, graphics arts, webpage design, etc. are just as popular if not more so in terms of compelling a user to purchase a graphics board.
Priced at $229 and $109 for the GTX 660 and GTX 650 respectively, Nvidia hopes to appeal to these mainstream gamers as well as entertainment focused end-users.
The GTX 660 and 650 Feature:
| | | |
| --- | --- | --- |
|   | GeForce GTX 660 | GeForce GTX 650 |
| CUDA CORES | 960 | 384 |
| Clock | 980 | 1058 |
| Boost Clock | 1033 | |
| Memory Type | 2GB GDDR5 | 1GB GDDR5 |
| Power | 6-pn | 6-pin |
| Outputs | 2x DL-DVI, HDMI, DisplayPort 1.2 | 2x DL-DVI |
| Bus Interface | PCIe 3.0 | PCIe 3.0 |
| MSRP | $229 | $109 |
We compared the GeForce GTX 660 to its big brother, the GTX 670 (selling for $400 on various sites) as well as the former Performance standard-bearer for the Fermi class of GPU's the GTX 460. The GTX 670 and GTX 460 are AIBs that require 2 6-pin connectors with max power consumption being 170W and 160W respectively while the GTX 660 consumes 140W at maximum. Consumers are demanding higher resolutions than previous so we tested our cards running at 1920 x 1080, always running with either 4X or 8X Anti-Aliasing.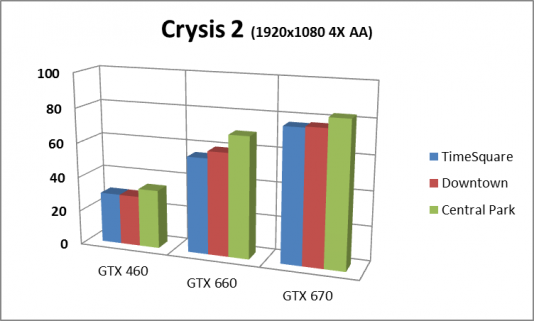 We observed a full 99% improvement for the Kepler GTX 660 over the Fermi Performance card (the GTX 460) in Crysis 2; and a 66% performance boost in 3D Mark and a 83% boost in Dirt 3 at 1920 x 1080 8X A-A. The more you push the GTX 660 the better it looks compared to previous generation cards.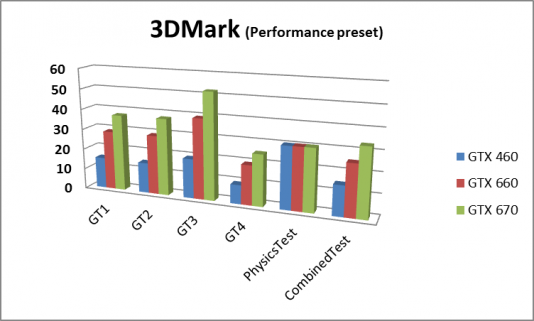 Overall we saw an 89% performance gain from the GTX 460 to the GTX 660 with the GTX 670 registering a 28% performance gain over the GTX 660. This last chart show the GTX 660 earning the best P3mark scores. P3Mark is our internal measurement which calculates 3 variables: performance, price and power. Due to its impressive performance for its segment and thrifty consumption of power the GTX 660 scored quite high.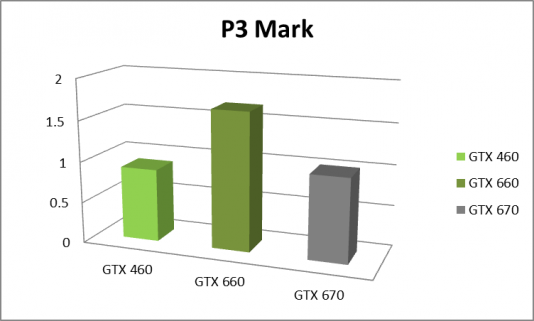 Our take
Overall we were really impressed with the GeForce GTX 660. It will face some competition from AMD's Radeon HD 7850 but the AIB is a welcomed edition to the Performance segment. When it comes time for those late adopters to trade up Nvidia will have a card for them.
Robert Dow and Harrison Gorvy are on the staff of Jon Peddie Research.