Current SolidWorks products will continue to be sold.  But for how long?
[Editor's Note: This article was updated October 2, 2012 to note Dassault Systemes has removed HSMWorks from its Partner program web listing.]
Autodesk today acquired the computer-aided manufacturing technology of HSMWorks Aps, the Danish developer of CAM tools including products for SolidWorks users. For years Autodesk's users have been saying they wish the company offered software for controlling machine tools, and now they have their wish.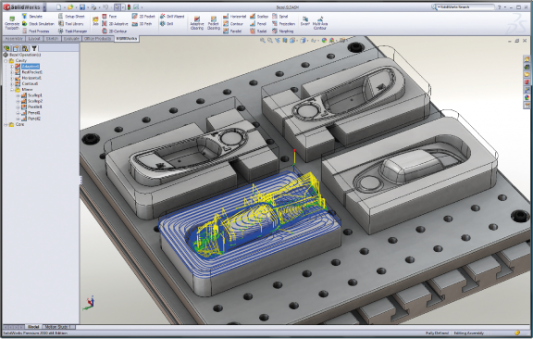 Autodesk says it intends to integrate the HSMWorks technology into its existing local and cloud products for manufacturing. The company also says it will continue to sell all existing versions of the software, designed for use with rival SolidWorks from Dassault Systemes. A free version of the software will also be continued.
Autodesk did not disclose the financial terms of the purchase, meaning it is less than approximately $40 million, the company's current reporting threshold according to federal regulations covering public companies. HSMWorks was launched in 2007 by a team who had been previously delivering computer numeric control (CNC) technology.
HSMWorks as currently delivered works inside SolidWorks FeatureManager, offering the new user who is an experienced SolidWorks user a shorter learning curve. The existing product is capable of machining assemblies, not something common to all CAM software. It also supports 64-bit processing and can utilize multiple processors and hyper-threading. 
Our take
It always adds a level of intrigue when one company buys technology used by a rival. In the relatively small CAD community it happens quite often. Generally speaking, everybody makes nice for a year or so, and then things slowly devolve. In this case, it may happen sooner. Less than 24 hours after the acquisition was announced, Dassault Systemes removed HSMWorks from the SolidWorks partner website. We originally thought SolidWorks users who rely on HSMWorks could take their time about thinking of a future without their product, but Dassault's move changes the timetable considerably.