Geopolitical tension slowed sales in Europe. Big industrial equipment makers were among the biggest buyers in the quarter.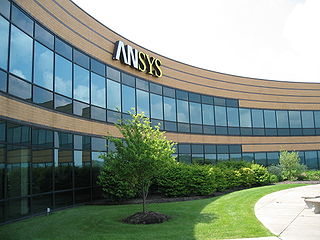 Ansys today reported record first quarter revenue, and also announced it is acquiring SpaceClaim, the 3D MCAD tool that made a big splash a few years ago with its combination of direct editing and built-in interoperability. (See the separate article "Ansys acquires SpaceClaim for $85 million" for details on the SpaceClaim acquisition.)
Revenue for 1Q14 (ended March 29, 2014) was $215.3 million, up from $197.7 million a year earlier. Net income for the quarter was $56.5 million, up from $51.0 million in the first quarter of 2013.
Breaking down revenue further:
Software license revenue: $126.4 million, up 6.4%;
Maintenance and service: $88.8 million, up 12.7%.
Revenue by regions:
North America: $76.5 million, up 8% from 1Q13;
Europe: $75.5 million, up 12% from 1Q13;
General International Area (GIA): $63.2 million, up 5% from 1Q13.
Germany continues to contribute 1/3 of European revenues, while Japan is responsible for 80% of GIA revenue.
Revenue percentages by type:
Lease revenue: 37%
Paid-up license fees: 22%
Annual software maintenance: 39%
Services: 3%.
Net income for the quarter was $56.5 million, up 11% from 1Q13 and also a first-quarter record.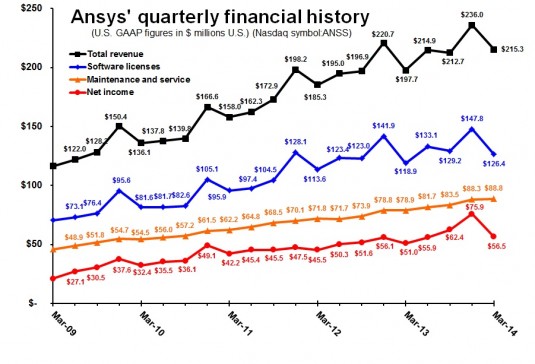 During 1Q14, Ansys had 32 customers with orders in excess of $1 million, up from 26 such orders in 1Q13. Recurring revenue in the quarter was 75% of all revenue.
During the conference call with Wall Street analysts, Ansys CEO Jim Cashman characterized the regional markets:
North America showed the highest growth in such industrial areas as large power generation equipment, aircraft engines, oil and gas industry equipment, and turbochargers for automotive. High-tech customers continue remain bullish about using Ansys for high-performance computing and cloud applications.
Europe showed the highest growth in industrial equipment and automotive. Wireless companies in Europe are investing in simulation to improve vehicle safety. Growth was slowed by lower-than expected sales in Russia. "The volatile nature of the situation in Russia, Ukraine and the Crimea, together with the sanctions imposed on Russia, has negatively impacted our business in Q1 2014," said Cashman, "and is currently forecasted to slow our sales growth in Europe until the sanctions situation is clarified and the underlying geo-political tensions are resolved."
General International Area (GIA) was highlighted by strong sales from Japan and South Korea, the later driven by the adoption of smart electronics in the consumer electronics multinationals in those countries. Ansys' high-performance computing applications are also selling well in South Korea. Demand was down in China and India due to delayed government spending in both countries.
Larger versions of our custom charts are available on our Facebook page:
https://www.facebook.com/media/set/?set=a.881350468548826.1073741847.213851138632099&type=1https://www.facebook.com/media/set/?set=a.881350468548826.1073741847.213851138632099&type=1
L. Stephen Wolfe, P.E., a contributing analyst for Jon Peddie Research, provided research for this report.