The goal is to create new computational fluid dynamics routines for the earliest stages of aerospace industrial design.
Cambridge Flow Solutions (CFS) and International TechneGroup Limited (ITI) have been awarded a three-year R&D grant award from the UK Government to support development of advanced geometry processing and automated meshing solutions for aerospace.
Through the AuGMENT project grant, ITI and CFS will engage in R&D work to develop advanced tools for Computational Fluid Dynamics (CFD) geometry preparation and meshing that will allow engineering simulation to participate fully and effectively in the earliest stages of industrial design.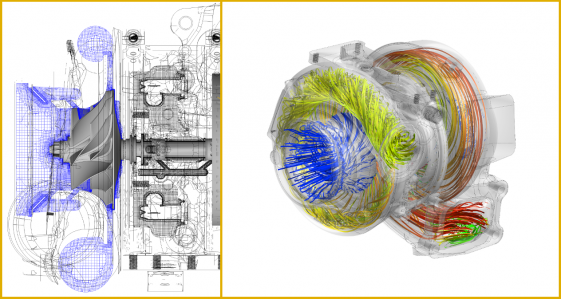 Numerical simulation is traditionally the most efficient way to reduce risk and quantify design performance for testing designs. Aerospace companies rely heavily on numerical simulation even though preparation of the geometric model is still typically a manual process that takes time and runs the risk of human error.
The project is receiving funding from the joint industry and government funding commitment for aerospace R&D, a partnership between the UK Aerospace Technology Institute (ATI), Innovate UK and Department for Business, Innovation and Skills.
CFS and ITI both have existing commercial software products used in aerospace for representations of geometry and automated meshing approaches. ITI's solution is CADfix, which offers CAE analysts the ability to automatically and interactively repair and transform CAD geometries prior to analysis and ensures that solid or surface models are translated effectively into target systems. In addition, CADfix offers a full range of import and export functionality for pre-processing CAD data from native and neutral formats.
CFS's Boxer software digitizes geometry to tackle complex, real-world applications using an integrated parallel simulation environment. "By integrating both approaches into interoperable end-user products, aerospace companies may realize the full benefits of both," says Albert Demargne of Cambridge Flow Solutions.
According to ITI's Mark Gammon, "The goals of the project are to create a hybrid CFD meshing capability that combines the unique geometry handling strengths of ITI's CADfix tool with the digital geometry and meshing strengths of CFS' BoXeR tool. The intended result is to offer CFD analysts the best of both worlds."
Simon Weeks, Chief Technology Officer for the ATI, said, "The AuGMENT project puts engineering simulation at the heart of industrial design and aligns well with our national technology strategy, endeavoring to maintain the UK's world-leading aircraft design and manufacturing capability. This partnership highlights the unique strengths of CFS and ITI and provides industrial users with a powerful combined toolset."