The new bridge makes the popular renderer available inside the C4D interface.
Solid Angle has released connector software that allows its popular Arnold ray tracing renderer work inside 3D modeling and animation software Maxon Cinema 4D (C4DtoA).

Arnold is an advanced Monte Carlo ray tracing renderer purpose-built for feature-length animation and visual effects. Originally co-developed with Sony Pictures Imageworks and now their main renderer, Arnold is used at over 300 studios worldwide including ILM, Framestore, MPC, The Mill and Digic Pictures. Recent films using Arnold include Monster House and Cloudy with a Chance of Meatballs to Pacific Rim, Birdman, and Gravity. It is available as a standalone renderer on Linux, Windows and Mac OS X, with plug-ins for Autodesk Maya and Softimage, Side Effects Software Houdini, and The Foundry Katana in addition to the new Cinema 4D plug-in.
Solid Angle says this new plug-in goes beyond their previous efforts on other platforms. Interactive results are seen in virtually all Cinema 4D components, including creating, moving, and deforming objects, as well as adjusting lights, materials, and volumes. The plug-in supports most Cinema 4D features such as instances, cloners, deformers, generators, MoGraph geometry, hair, and Thinking Particles.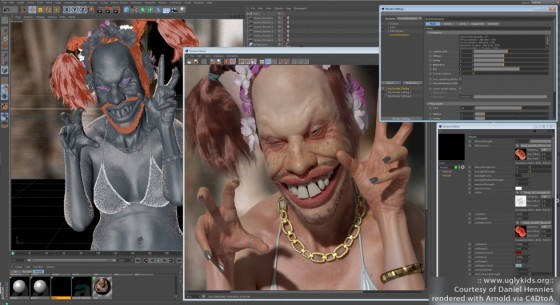 Solid Angle says C4DtoA is the only render plug-in that supports both animation and single-frame distributed rendering in Team Render, allowing the use of all computers in a local network to speed-up Arnold rendering. Another unique feature in C4DtoA is a node-based material editor for assembling arbitrarily complex shader networks, following Arnold's node-based approach.
C4DtoA is available free to all registered Arnold users; a separately purchased copy of Maxon Cinema 4D is required.