Each character in a crowd scene is an autonomous agent.
Massive, the specialist in crowd simulation software, today announces a version of its Academy Award-winning crowd simulation software for Autodesk 3ds Max.
Massive is the only crowd simulation software that uses artificial intelligence (AI) to control characters. Each character—and there can be thousands—is an autonomous agent capable of reacting to scene changes in the environment. This eliminates the limitations of movement found in most other crowd simulation software using particle motion, where even minor changes in terrain can stop programmed characters and therefore derail the entire simulation.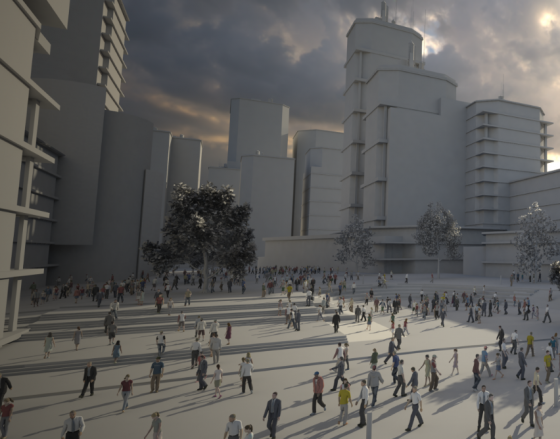 "If you know how to use 3ds Max, Massive will feel like second nature," claims Massive creator and CEO Stephen Regelous.
Massive's Ready to Run Agents help artists populate common scenarios like stadiums, streets and battlefields quickly, arriving with skeletons, shaders, an action library and other time-saving elements locked in. Each Agent can be edited, then rendered at the touch of a button, using most major renderers, including 3-Delight, V-Ray, and Mental Ray.
The Agents ship with a large variety of geometry and texture maps to help customize their looks, as well as Massive's "fuzzy logic brain," which grants Agents the ability to react naturally to their environment. All Massive for Max subscribers also receive an Ambient Ready to Run Agent as part of their subscription. Each of these industry-leading Agents comes with hundreds of motion captured actions preloaded.
Agent groups, placement generators, lanes, and flow fields provide tools for populating shots. A "record" and "scrub" button that works alongside Max's existing time controls makes the process of scrubbing through scenes with thousands of Agents as fast as working with a single character.
Massive was originally developed by Regelous for the Oscar-winning Lord of the Rings trilogy, to speed the process of populating complex scenes with editable agents. Massive clients include Weta Digital, The Mill, Digital Domain, Iloura, and Cinesite.