New features bring editorial cut data into the review process.
The latest update to studio collaboration platform Shotgun introduces editorial cut data into the review process, enabling teams to view their work at any time, in context with the latest cut.
"VFX and animation studios need to constantly view their latest work in context of the cut, and yet editorial makes continual changes throughout the project," says Don Parker, senior director of Shotgun Software, an Autodesk company. "Keeping up with this process manually takes way too much time and can lead to frustrating delays and mistakes."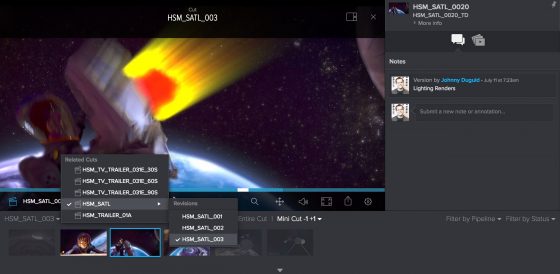 Shotgun 7.0 new features include:
Import Cut: Editorial information is quickly published to Shotgun, summarizing changes that can be shared with anyone on the project.
Play Cuts Anywhere: With one click, watch the full cut either in the browser or in the Shotgun RV desktop player. New filtering tools control which shot versions show up in the cut, such as "latest," "latest animation" or "latest approved."
View any Shot in a Review Session in Context of the Cut: Teams working through shot versions in review sessions can seamlessly switch between viewing the shot in the review playlist and viewing the shot in the context of the cut.
Track Overlapping Cuts: Access a full history of all cuts on a project, including overlapping cuts such as :30, :60, :90 cuts on commercial projects, or both sequence and trailer cuts on film projects.
API Ready: A new data model tracking the cut data is fully exposed in Shotgun's API so studios with development resources can integrate with their pipelines.
Shotgun 7.0 was demonstrated to the press yesterday at Siggraph 2016 in Anaheim.