As usual, Apple was a CES no-show, but the com­pany has a major influence on what happens there anyway. Look for others to release workstations that belong on a pedestal, not hidden behind the desk.
The Mac Pro is not exactly the kind of thing you'd give your sweetheart for Christmas, but Apple started tak­ing pre-orders for Mac Pro with a new Intel processor, AMD graphics, and an eye-catching round body right around Christmas. Now, just as CES is winding down, the new machine is shipping to fulfill early orders. It's also getting high scores for power use and materials use.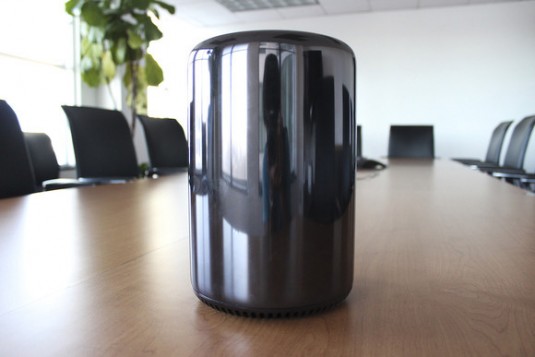 The latest wave of marketing for the company is painting the machine as a green darling. In addition, Apple is building the machines in the US, a rare example of American PC manufacturing. Will Apple sell any more machines because they're built in the US? It cer­tainly isn't going to hurt, and it has built good will that the company has needed after the suicide scandals in China.
Apple did not attend the Consumer Electronics Show (CES), but AMD made sure the new machine had a big presence. The company showed Mac Pro in a high-profile spot in its booth at CES because AMD's FirePro graphics are part of the package.
Apple hasn't released a workstation since the Power Macintosh in 2006. The new slick, tubular, black Mac Pro marks the company's re-entry into the professional graphics space, just in time for the ultra-high-definition content ex­plosion. At CES 2014 new 4K TVs, 4K software, cables, and cameras were everywhere. Not everything will be of the greatest quality, but the germ was planted and people are starting to believe  in 4K.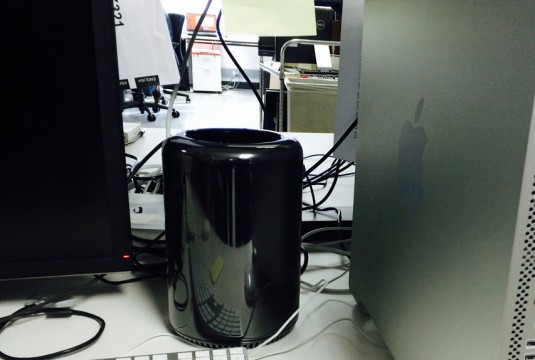 Meanwhile, we wouldn't be sur­prised if Apple helps turn the idea of a workstation into a mainstream gotta-have for a lot of consumers. Apple is doing what Apple does best: redefining a category. The new Mac Pro doesn't look like anything we've ever seen be­fore. And if history is any indicator of the future, just as the iPhone and iPad were shamelessly copied, we can expect other non-traditional-shaped worksta­tions and PCs to appear. We have a little betting pool here at JPR on what com­pany will be the first to come out with a round PC or workstation.
Many people who enjoy content creation might be thinking they need a more powerful machine simply because the Mac Pro looks so great and it's not a big honkin' machine. The new Mac Pro is surprisingly small—about one tenth the size of its predecessor, just 10 inches (25 cm) tall and 6.6 inches (16.7 cm) in width. It sits on the desk and tells the world, this is the sort of person who does important creative work.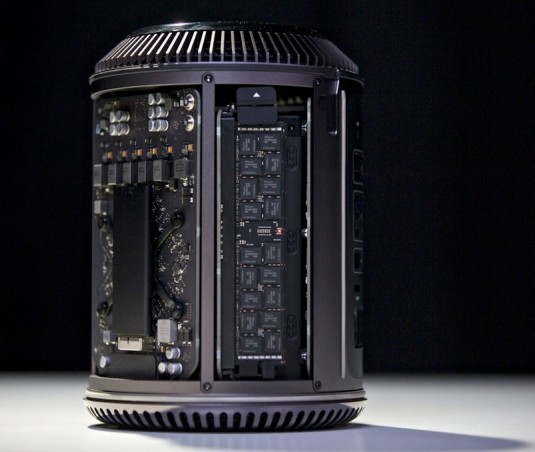 The Mac Pro comes in two sizes, as detailed in the table below:

Unlike previous versions of the Mac Pro, there is no option for dual CPUs with the new one. It comes with lots of I/O: two Thun­derbolt ports, four USB 3.0 ports, two Gigabit Ethernet ports, HDMI out, 802.11ac WiFi, and Bluetooth.