The new search tool joins a similar product based on Google Desktop. The authors have been a leading contract team in the world of 2D CAD since the 90s.
The programming duo of Ransdell & Brown have released a new DWG search engine based on Microsoft Desktop Search. DWG 2010 iFilter searches inside DWG files (all versions through 2010) for text and MText objects.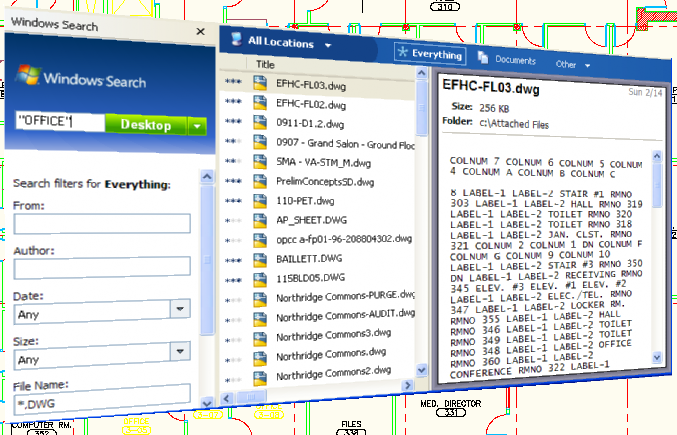 This product is the second DWG search product from Ransdell & Brown. They previously released DWG 2010 Indexer for Google Desktop Search.
DWG 2010 iFilter is compatible with Microsoft Desktop Search (Windows Search) and these Microsoft server products:
Office SharePoint Server 2007
Exchange Server 2007
Search Server 2008
SharePoint Services v3.0
SharePoint Portal Server 2003
SQL Server 2005
SQL Server 2008
SharePoint Server 2010.
Features include:
DWG versions through 2010 supported
Searches inside DWG text and MText objects
Looks for text in model and layout tabs
Attributes are fully indexed
AutoCAD (or any CAD program) not required
Both 32-bit and 64-bit native installations available.
Ransdell & Brown are expert 2D CAD developers who first met while working on Generic CADD in the late 1980s. When Autodesk first acquired, then closed the Generic CADD business, they launched a partnership in contract programming. Projects and companies they have contributed to over the years include:
General CADD
LaserTech
CAD Zone
Wild Ginger Software
MonuCAD
Microsoft Visio
Corel
Cadence OrCAD
GeoGrafx
Wireless Notes Systems
LizardTech
PC Pros.
More information: http://www.dwgindex.com/DWGFilter.html