The growing British company can respond quickly to demanding clients.
From its headquarters in Tamworth, UK, Alcon Components Ltd has been designing and manufacturing advanced brake and clutch products since 1984, when John Moore founded the company to supply brakes for Audi Sport's Group B Quattro rally cars. Today the company has a worldwide reputation in the motorsport industry, supplying brake components for the World Rally Championship and, in the US, for NASCAR and IRL teams. Additionally, the company supplies braking equipment for high performance road cars and for special vehicles used in defence applications.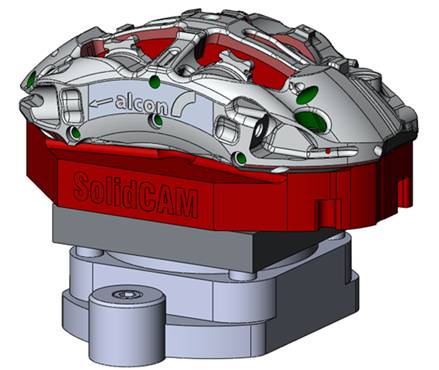 The company employs over 80 staff at its headquarters and has sales offices in the United States and France, to ensure its international presence. Furthermore, Alcon is certified to the internationally recognised ISO TS16949 Quality Standard required by the automotive industry.
Alcon's customers require not only the highest precision and machining quality, but also manufacturing flexibility and short response times. The ability to respond to these demands is the key to Alcon's success. At its headquarters many of the production functions are under one roof, enabling it to maintain maximum control over quality and scheduling—an essential aspect of its 'rapid response' approach. The ability to machine, finish, assemble and test components in-house is often crucial to meeting customer deadlines.
Senior production engineer Allan Ford has been with the company for nearly 20 years. He says, "I have seen the company grow from eight to more than 80 employees. The main reason for our success is our flexibility and ability to convert design ideas into metal as fast as possible." Alcon engineers are equipped with state-of-the art CAD/CAM software and profits are constantly being reinvested in capital equipment, including new CNC machining centres, computer controlled inspection equipment, and specialist tooling systems.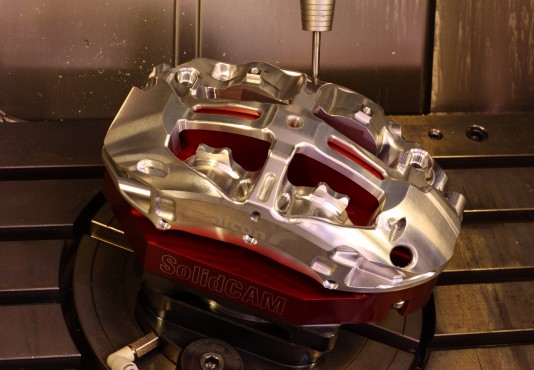 Alcon's engineers work in close collaboration with customers, taking their ideas and developing them to create a complete manufacturing process and finished product. This requires a 3D CAD system, which can easily import the different CAD formats supplied by customers and which has powerful 3D modelling capabilities to modify and create geometry. Alcon has been using SolidWorks 3D CAD for several years and is equipped with six seats. Allan Ford says "For us, SolidWorks is a versatile software tool which accelerates our design process. For example, weight is always an issue in motorsport and we are permanently investigating ways of reducing it while maintaining part stability. For this, we need an easy-to-use and powerful CAD system, which also supports integrated analysis tools. Moreover, we use SolidWorks in the manufacturing department to design fixtures for locating and clamping the workpieces on the machine tools."
Alcon replaced its existing CAM system with two seats of SolidCAM + SolidWorks in 2004. Bob Luck, Production Engineer and CAM programmer, explains, "We analyzed our previous CAD/CAM process chain and identified weaknesses with the lack of integration into SolidWorks. It was sometimes difficult for us to get error-free design data into CAM quickly enough. Furthermore, we had to wait about six months to get a suitable post-processor from our old CAM supplier for our Mori Seiki CNC machine." The company evaluated three CAM systems and used four criteria in its selection process:
seamless integration with SolidWorks;
a broad range of CAM functionality;
powerful post-processor capabilities;
excellent UK support.
Alcon carried out trials on each short-listed system for one month before making its decision. Bob Luck says, "Our approach gave us the opportunity, to test both the software functionality, and the underlying support organization. For us, excellent local support is absolutely vital." He continues, "We discovered that SolidCAM reduced our NC programming time by half, and we have been pleased with the ease of use and power of the 2.5D machining module. A major benefit for us has been the quality of the UK support."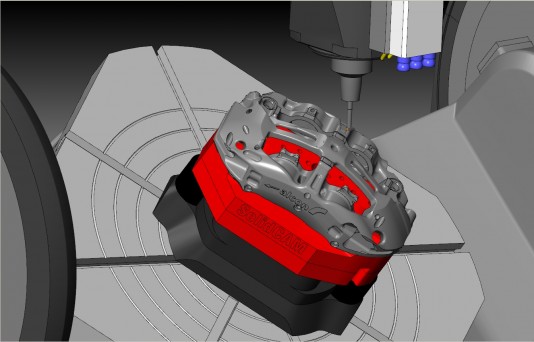 Since the installation of SolidCAM, Alcon's products have become more sophisticated, with the use of sculptured 3D surfaces in the design. Bob Luck explains, "Our designers have been able to take advantage of the more complex shapes we can now manufacture. Initially, we were using just 5-axis positioning for 3+2 machining. Now, thanks to the capabilities of SolidCAM, we can achieve continuous 5-axis machining on complex 3D surfaces. This enables us to produce more of the part in one operation, and machine far more complex geometry than we could previously achieve which, in turn, improves the form and function of our products." As well as 5-axis machining, the company now uses SolidCAM to program its Hitachi Seiki Hi-Cell mill-turn centres to produce parts such as master cylinders. "On our previous CAD/CAM system, we had to substantially edit the G-codes to make the programme operate. Now, with SolidCAM, the post processor produces perfect NC code, making it far simpler and quicker to produce a new CAM program."
The collaboration between Alcon and SolidCAM is a continuing process. Bob Luck contributes to the software development program and SolidCAM offers advanced technical support. "As our expertise has increased, so the benefits we have gained from using SolidCAM have grown. Since we started using the software, our greater programming skill levels have enabled us to reduce the cycle times on our products by a further 20%. Although most of our products are unique, we have been reprogramming some long running components and have achieved some substantial savings in manufacturing times, up to 40% in some cases, making the exercise very worthwhile."
Alcon is currently working with SolidCAM to evaluate the benefits of using 5-axis machining principles on components which could normally be cut in 3-axis. Bob Luck says, "The on-going partnership is working well, the support is excellent and we are now able to make parts which would have been impossible for us to manufacture before. We make our SolidCAM systems work very hard, and we are looking forward to trying the new iMachining module which, we hope, will improve our productivity even more."