Adobe reports strong Q4 and fiscal 2014 financial results.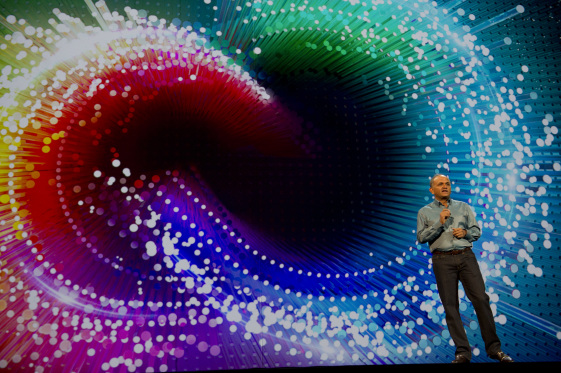 Adobe continues to prove the wis­dom behind its seemingly brave bet to go to subscription. CEO Shantanu Narayen proclaimed 2014 to be "an outstanding year" for the company, and Narayen's bet doesn't look brave, it looks shrewd. Subscriptions are ahead of predictions and the Adobe Marketing Cloud has had more modest growth, but Adobe claims the leadership position. Given that the competitors in under the vague heading of digital marketing include IBM, Salesforce, HP, and Oracle—and they all address the market in different ways—everyone can claim leadership, as far as we can tell. However, Adobe's ownership of so many of the tools for production and for marketing as well as online presentation, and the document exchange standard in Acrobat, suggests they've got quite a few cards to play that no one else is holding in this game, which seems to be changing rapidly.
Adobe reported revenue of $1.07 billion for their fourth quarter of FY14. Total revenue reached $4.15 billion for the year. Adobe's Creative Annualized Recurring revenue has grown to $1.7 billion, and total digital media ARR, which includes non-recurring revenue and document services, has grown to $1.95 million. Meanwhile, Adobe's Dig­ital Media sales hit $330—a record, the company says.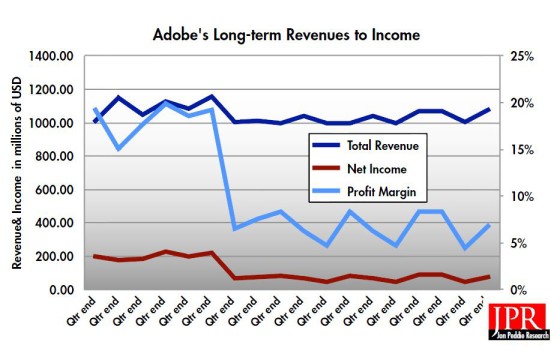 Adobe is increasing its subscriptions, albeit on the low end of the scale, as evidenced by a slight decrease in ASPs. The company professes to be perfectly happy with that bargain. In fact, Adobe CFO Mark Garrett says it is seeing new subscribers coming from people who are signing up for point product sub­scriptions. The goal is to have more subscribers, and that those subscrib­ers will kick in increasing revenues as they are offered appealing products and services. Adobe has increased its recur­ring revenue from 44% in Q4 2012 to 66% at the end of its fiscal 2014. Like­wise, says Garrett, the low-cost Creative Cloud Photography Plan, which includes Photoshop and Lightroom "is expanding our market opportunity."
In the fourth quarter of 2014, Adobe added 644K new Creative Cloud sub­scriptions, bringing the number of sub­scriptions up to 3.5 million, 2 million more than the same period last year.
For the year, Adobe reported revenue of $4.1 billion and had $1.3 billion in operating cash flow during the year. For the year, the Adobe Marketing Cloud reached $1.2 billion, beating the com­pany's target of 30%.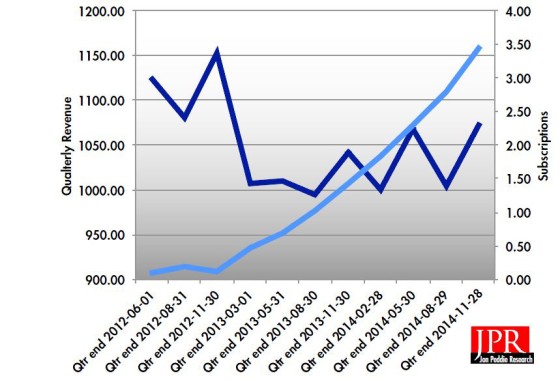 Fotolia, why not?
After the numbers were all gathered in, Adobe announced plans to acquire Fotolia, a privately held company that sells stock content including images and videos. According to the press release, Fotolia offers over 34 million images and videos. We know from what was said during the company's Adobe Max conference that the company is throw­ing a wider net with mobile apps and also encouraging people to share their work and even sell their work through Adobe's developing community and marketplace. Fotolia fits right into that larger long-range plan and in the mean­time offers the kinds of goodies that will encourage people to sign up for sub­scriptions. Fotolia will also continue to function as a standalone stock service.
Adobe is purchasing Fotolia for $800 million cash. So far, says Adobe, the U.S.-based Fotolia has a larger base of customers in Europe, so Adobe's deal opens up the opportunity to attract a larger customer base in North America. Observers note that Adobe competitor Wix, which sells web design apps, has announced a similar deal with the pur­chase of Bigstock.
Aviary
Adobe is also closing on its Aviary deal announced in September of this year. Adobe is using Aviary's technology to provide the image-editing component of the Creative's SDK. So far, the Aviary editor s still available as a product, but Adobe says it plans to make the technol­ogy available exclusively in the Creative SDK. In addition, Adobe has announced that the Creative SDK is available for Android apps as well as for Apple. As a quick review, Adobe's SDK offers quite a bit of the company's key technology to developers for free; in return, the apps created with the technology are inte­grated with the Creative Cloud so that customers will be able to upload their content and do more with it as they add on to their Adobe subscription The Adobe Creative SDK is getting new features in this release including the ability to use:
Overlays—the better to create social media with
Vignettes to frame photos
Highlights, Shadows, Tint, and Fade— new adjustments to give users more creative freedom
Draw Brush for iOS, an enhanced tool that makes drawing on photos easier
Adobe has also announced that its Creative SDK is now publicly available for the Android platform. Adobe's SDK is a force multiplier for the company. Third-party developers on the mobile platform are able to fill in the gaps in Adobe's mobile product line, and they all connect to the Creative Cloud in some way, bringing Adobe more cus­tomers to live in the Creative Cloud as subscribers. They may join as free subscribers using the mobile apps, but they'll have plenty of opportunities to become paying customers.