First full update of the MCAD suite replacing Pro/Engineer and CoCreate introduces a tenth app, for modular product design. Creo's 2D sketch app is now available for Mac OS X.
PTC today announced an update to the Creo line of MCAD apps which has replaced Pro/Engineer. All nine existing apps have been updated to version 2.0 and a tenth—Creo Options Modeler—will be released shortly. The nine updated Creo apps are now available.
Like all other apps in the Creo line, Options Modeler is designed to be role-specific. This app is aimed at designers who need to create or validate modular product designs in 3D early in a design cycle. PTC says the new app, available this summer, will deliver a toolset for building accurate and precise 3D-based product assemblies. PTC expects the new app will be used with the basic Pro/Engineer replacement Creo Parametric for early-stage validation of precise mass, center of gravity, and interference for modular designs.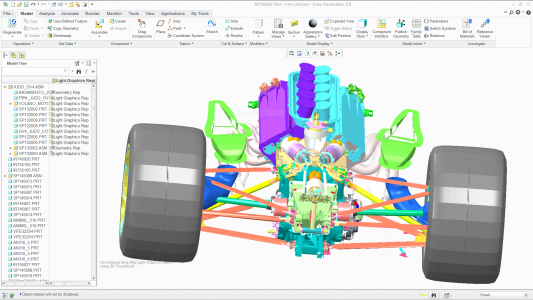 All Creo apps share a common data model so that moving from one design phase to another—and from 2D for early concept sketching to 3D for complete design—can all stay within PTC's CAD matrix. To expand the line PTC is introducing a Mac OS X version of the free Creo Sketch 2D concept design app, since Macs remain a popular tool with industrial designers. Autodesk's Alias Studio is the major competition in this space.
490 enhancements
PTC says there are more than 490 enhancements to various Creo 2.0 apps. The lion's share of enhancements are in Creo Parametric, including more nuanced freeform surface modeling, cross-section views that use 2D and 3D visualization in tandem, several improvements to the measure tool, and a new Track Changes feature that works similar to the ability to accept or reject edits in Microsoft Word, allowing Creo Parametric users the ability to review model changes made by others using Creo Direct.
PTC says Creo Direct has been given new tools to help accelerate the bid-proposal process and improve early concept design, including referencing of existing geometry from available parts and an intelligent snapping feature that works inside both parts and assemblies. PTC's CoCreate  (now Creo Elements/Direct) was popular in high tech and medical equipment, two manufacturing segments with rapid design evolution and frequent model changes, making it important for Creo Direct new features to appeal to this market segment.
Creo 2.0 also features a new installation process, replacing a cumbersome and sometimes perplexing process in Creo 1.0. Only the Creo apps specific to a customer's environment and license entitlement are downloaded and installed.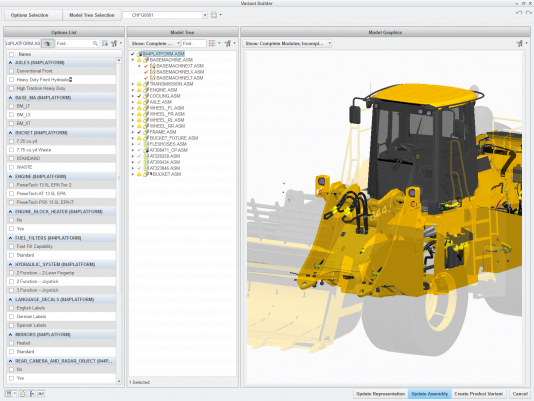 Keeping the natives from getting restless
It is clear now Creo is not going to be the MCAD industry's disruptive leap forward. It is designed to keep Pro/Engineer and CoCreate users happy by giving them modern equivalents of their dated but beloved CAD tools. But Creo won't be stealing customers from other CAD/PLM vendors the way PTC's Windchill does. The early adopters among the PTC faithful are giving it mildly positive reviews. The installation sequence was panned by everyone, and PTC seems to have bent over backwards to fix the problem. PTC executives gave an early preview to key users and some members of the press who were the most vocal about installation problems, and did not proceed with general release until their complaints were addressed.
The vast majority of Pro/Engineer and CoCreate users are still waiting to upgrade, partially because they are unconvinced about the new tools, and partially because the pace of change in many manufacturing firms is glacially slow. Creo 2.0 will convince some of them to take the leap, but not enough to form a majority among PTC MCAD users; that might not happen until Creo 5.0. By then the laggards will no doubt be rewarded with a set of CAD apps both nimble and powerful.