The virtualization trend is exploding as standards are set in place. PTC certifies first virtualization platform with Citrix, IBM, and  Nvidia; more to come.
Virtualization has finally reached acceptance among users and it's happening even faster than many companies selling the hardware expected. At PTC's worldwide conference this year, PTC Live 2013, the company announced an agreement between IBM, Nvidia, and Citrix to enable PTC customers to take advantage of virtualization. The capability is available for
Creo Parametric
Creo Direct
Creo Layout
Creo Options Modeler
Creo Simulate.
These products represent the start of PTC's effort to enable virtualization and remote computing throughout their product line. Mike Campbell, EVP CAD segment at PTC told press and analysts these products were announced, because "they're what we had ready." Though obviously, these are also the core PTC products that people would want to use in a virtualization mode.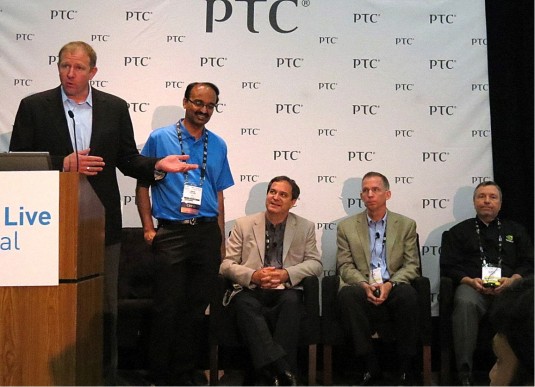 "Ready" means the products have been verified as "Citrix Ready" and they will be supported by PTC when running on virtualized desktops on an IBM server through Citrix XenDesktop with Citrix HDX 3D Pro and Nvidia-powered integration. This first platform uses Nvidia's Grid K2 (with 2 Kepler GPUs), plugged into the IBM iDataPlex dx360 M4 server. Virtualization enables people to access programs on a server from thin clients, and PCs including Macs. This is just the first configuration to be certified by PTC; representatives from Nvidia and PTC said there are more in the works.
PTC does not plan to charge extra for the ability to run its products in a virtualized environment, but it it is necessary to have a floating license and, if the capability will be used internationally, a global floating license is required. Campbell said the way PTC sees it, "this is just another way to run our software." He said virtualization is another platform. "We don't charge more to run on HP or Dell."
When it comes to benefits, there there are several ways to take advantage of virtualization. When virtualization is available people can get increased performance by accessing multiple processors in the system. Or, if it is more appropriate for the situation, users can share resources. Just a couple of weeks ago, we talked to Dell who is finding people are frequently running in one-to-one set-ups, and in general, they see people usually going no more than 4 CPU/GPU configurations – beyond that, the benefits don't scale as much.
PTC says that one of the benefits of virtualization is more efficient integration between the company's Windchill line of PLM products and its Creo design tools. Also, virtualization gives IT the ability to keep data and programs on the server, meaning company IP is safer than it is in a world full of Dropboxes and thumb drives. Virualization also gives IT better control over software installations. Depending on the configuration, whole groups of people can be served by updating a single server.
Campbell says in his prepared statement that as people maintain and work with huge assembly files on the server, they're not wasting time pulling down data to their local machines. "You actually have a better user experience than if you tried loading the data across the network to your local machine." And, better user experience is the key issue. Past attempts at virtualization were favored by IT for its security and management benefits but end-users, the people who need to get their work done, do not want to experience one nano-second of lag time. For that reason, we are told, the most popular configuration is still one-to-one. On person, one remote computer. Newer workloads are expected to come online as customers adopt technologies for the field and factory floor.
PTC CEO Jim Heppelman said the systems are available now, but they'll officially launch in late June with the release of PTC Creo 2.0 M060.
Our take
We're not using the "exploding" adjective lightly. Since Nvidia's introduction of Grid technology we are seeing pull from users for this technology and that's a fascinating turn of events in the CAD world. People are radically changing where and how they work. Key to the advances we're seeing is the ability to move to any desk, any computer, any device with a digital heartbeat and a network connection and connect to the job. – K.M.