The new Perceptive Pixel touch screen is more fun than a cave for product review and a whole lot cheaper.
The second generation of a JT mobile viewer launched last week, just in time for Siemens PLM to make a big deal out of it at their annual users conference. While covering the conference I bumped into Simon Floyd, a long-standing acquaintance and Microsoft's point man for all things PLM. "Come c me on show floor" he texted me later; "see JT2Go & u can play FPS on 82" touch screen"
When I got to the Microsoft booth on the show floor, JT2Go was on display, and somehow we never got to the first-person shooters. It was flat-out surrealistic to work with a product model using touch on such a large screen. Looking at PPI information when the text is 6" high or doing a model cutaway that can be clearly seen 50' away gives new meaning to product review.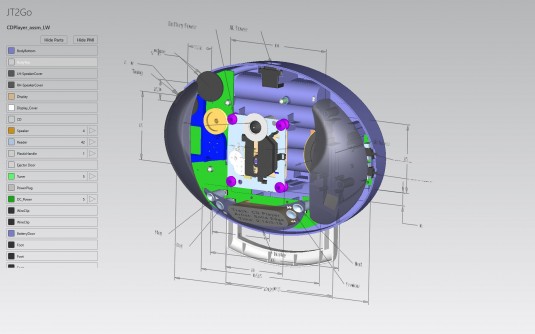 Microsoft acquired Perceptive Pixel last summer for its touchscreen technology and its line of large touch-enabled monitors. At the time of the acquisition Steve Ballmer called Perceptive Pixel's large displays "a very big Microsoft 8 tablet." Turns out that's exactly what the monitor was that night. The [brand name withheld] workstation scheduled to drive the 82" monitor arrived in Dallas DOA. So Floyd had to improvise on the spot and hooked up his Microsoft Surface Pro tablet running Windows 8 to the monitor.
Floyd believes enterprise manufacturing will be the largest customers of the giant touch screens, once they discover how versatile they can be with product review tools like JT2Go. The typical Cave setup is a six-figure purchase with installation, while the 82" Perceptive Pixel monitor goes for around $21,000 and is no more complicated to set up than a desktop monitor.
The JT visualization format has gone from being just for Siemens PLM users to an ISO International standard (IS 14306-1) for 3D visualization and collaboration. The free viewer makes it possible for all stakeholders in the product lifecycle to communicate in 3D. The new JT2Go app only works in Windows 8 and requires a DirectX 11-compliant video card. Floyd, a nice guy but ever the champion of all things Microsoft, said it has to be DirectX 11 because OpenGL lacks the drawing capabilities to display the PMI information or overlay data in a JT file.
The combination of JT2Go and Perceptive Pixel provides a gesture-driven interface I found easy to pick up. The display of PMI information is new in this release of JT2Go, as is the ability to send interactive snapshots to Microsoft OneNote. Enterprise users who upgrade to the Window 8 environment can create an internal Windows Private App store, offering a corporate way to manage apps.