The message at PlanetPTC Live this week has been about the all-new PTC, ready to shake up manufacturing automation. Is anybody listening? PTC thinks so.
It has been easy to talk about the CAD industry as boring; at least it is if you're not following it closely. The CAD industry hasn't been boring for several years now and PTC, a company not known for raising blood pressures unless it was at the bargaining table, has cranked the volume up to 11. In October, the company announced to the world that it had been busy on something called Project Lightning — nothing less than the top to bottom re-architecting of its product line including its flagship Pro/Engineer.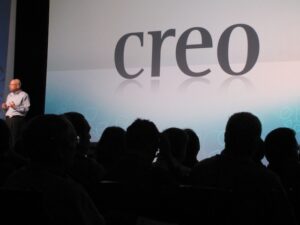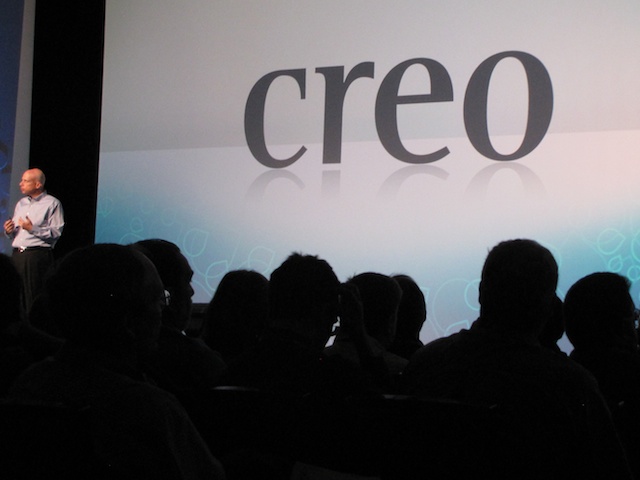 And now, Creo has arrived, and as expected this is no ordinary product roll out we're talking about. With the re-architecting of its products, PTC is also in the process of redefining the company and it hopes to be ahead of a wave that's sweeping through the computer industry. In a casual lunch conversation, PTC CEO Jim Heppelmann said Creo is the biggest, boldest, and fastest thing PTC has ever done.  He's not kidding.
Heppelmann told us that just about a year and a half ago, the PTC management team got together to take a hard look at the overall company. They recognized their CAD business, their flagship, was basically on maintenance. Compared to the rest of the computer industry, CAD has been growing slowly and PTC's CAD products were right there with the trend, low single digit growth numbers. Worse, Heppelmann said, the CAD teams were dispirited. The best and brightest were looking for new challenge and more interested in working on Windchill and other projects.
They rolled the dice.
Looking at the industry as a whole, PTC decided the CAD industry was far from mature and there was real opportunity for the company to deliver change. What's the biggest problem throughout the CAD industry, they asked? The software is too hard to use. As a result, they systematically looked at the product line and broke it down into its component parts according to the jobs people need to do. The goal is to give users manageable, easy to use,  software "apps." With the delivery of Creo, PTC admits that the job is not done, rather they're just getting started.
As promised, PTC has delivered the first wave of Creo products on time and it has also kept its promise to its customers—it hasn't broken anything … at least not yet. Brian Shepherd, PTC EVP, Product Development, is one of the main drivers of the Creo effort. While he described a new product line that seemed radical in its ambitions — the right tools for the right jobs — he assured Pro/Engineer users that Creo Parametric, the successor to their Pro/E, would look to them like another product upgrade … with great new features including an extension to add direct modeling capabilities.
The new product line looks like this:
Creo Sketch: A new, free, freehand drawing tool.
Creo Layout: A 2D layout tool that is interoperable with PTC's 3D tools
Creo Parametric: The successor to Pro/Engineer. In addition the company is developing optional (meaning, not free) extensions to enable direct editing capabilities within Parametric. Extensions will add integrated tools for CAID, CAM, and CAE among other capabilities.
Creo Direct: A brand new 3D modeling tool using direct modeling techniques. PTC says this is a 1.0 release meaning there's much more work to be done, but users will find it a valuable tool for concept development and base models.
Creo Simulate: PTC's simulation tools formerly known as Mechanica.
Creo Schematics: 2D tools for routing pipes and cable.
Creo Illustrate: One of the really audacious moves made by PTC, Illustrate is a rethink of the Arbortext tools. In addition to technical publications, the tools can be used to create 3D interactive content for training, work instructions, demonstrations, etc.
Creo View ECAD: View and markup tool for electronic geometry
Cre0 View: View and markup tool for mechanical geometry
PTC says this new line up of tools represents just the start. New apps are in development and the company is building an ecosystem with third party partners. A quick, really really quick, poll of exhibitors at the PTC expo revealed that many vendors are taking a wait and see look before they dive headlong into the app pool. Obviously though, the third party partners that PTC already has are already working on apps.
What do we think?
We think the product line and the message is still a little confusing. PTC isn't ready to cut loose with specifics about pricing but it's clear that in many cases, people will not be paying less to get the functionality that they had before, and they'll probably wind up paying more for increased functionality. However, PTC says they're offering tools at prices much less than they've offered before. In other words, they're hoping to get this stuff out there and see what their base wants and then adjust accordingly. There are tools that are available from $1,000-$3,000 and while this is lower than PTC normally charges, it's more than customers are hoping to see in a world moving headlong into bite-sized apps at bite-sized prices.
Heppelmann is right that the moves PTC has made in the last year and a half are utterly audacious; he and the other PTC presenters at the conference pledged to continue the march. The company is juggling their short term requirements — they can not betray their base of users with totally brand new products — with their long term ambitions — to create simple, easy to use products that everyone in the design and manufacture industries can use and thus dramatically expand their market to capture users from their competitors and to create new users. But right now, the short term is the critical part and the company is waiting with high hopes to hear what their users have to say.