The leader in engineering simulation reports a number of issues that have slowed sales in Asia. North America and Europe both posted double-digit revenue gains.
Leading engineering software vendor Ansys (Nasdaq: ANSS) has reported third quarter 2013 results in keeping both with its leader-of-the-pack recent results and with current macroeconomic trends. Revenue in the quarter (ending September 30, 2013) was $212.7 million, up 8% from the same quarter a year ago. Measured in constant currencies, growth was 9% in the quarter.  North America and Europe showed double-digit revenue gains year-over-year, while results from Japan and the rest of Asia-Pacific showed weakness.
"We expect the macroeconomic challenges and longer sales cycles that have been the reality for the past nine months to continue through the remainder of 2013 and into 2014," said CEO James Cashman about third quarter results.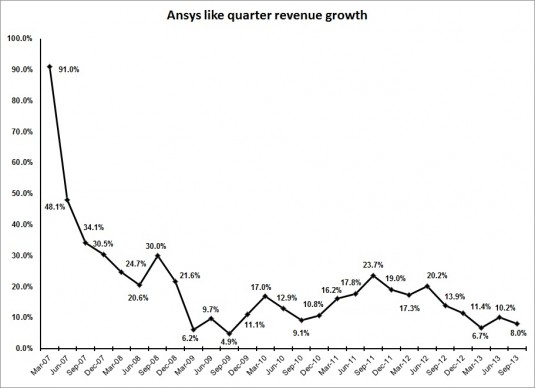 Net income in the quarter was $62.4 million, up 20% from Q312.
During the quarter Ansys recorded 15 orders in excess of $1 million, compared to 14 such orders a year ago. Maintenance revenue grew by 13.5% (measured in constant currencies) in the quarter, year-over-year. Recurring revenue was 72% of revenue in the quarter.
Revenue by regions:
North America: $76.1 million, up 12% from 3Q12; a higher-than-usual number of deals were closed late in the quarter due to the uncertainly around the US government shutdown.
Europe: $72.1 million, up 17% from 3Q12; Germany, France, and Russia all reported the strongest sales during the quarter.
Rest of world: $64.3 million, down 5% from 3Q12; the 20% weakening of the Japanese Yen against the US Dollar significantly impacted sales during the quarter.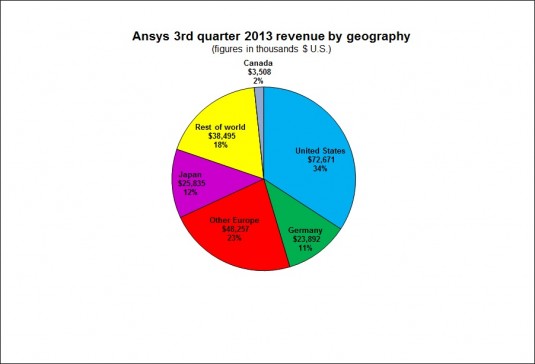 Ansys cited a number of issues in Asian markets:
"Obstacles lingered in the Japan business climate with our customers experiencing stronger competition from nearby countries, particularly in the electronics and automotive markets, and weaker global demand for their exports. Our Q3 results also reflect ongoing issues with the China market which have caused state-owned enterprises to prolong their spending decisions. The Indian economy continued to show signs of softening given its currency issues and a relatively more cautious sentiment in foreign investment than in prior years. Korea remained an area of relative sales strength across our broad portfolio, but also showed signs of customers delaying purchasing decisions."
Our take
Ansys sits on a large pile of cash. It paid off its only loan of size during the quarter. As a percentage of spending, most engineering firms seems to be spending more on simulation and analysis than design, and as the largest dedicated vendor in the field, Ansys continues to reap the benefit. A major update of the primary Ansys suite will debut either in Q4 or early in 2014, giving the company a nice revenue boost soon. Despite its problems in Asia, Ansys remains the high-flier in engineering software.
L. Stephen Wolfe, P.E., a contributing analyst for Jon Peddie Research, provided research for this report.
Three more of our custom charts follow. Larger versions of these charts are available at our Facebook page, www.facebook.com/GfxSpeak.