The out-of-the-box add-on to Qube helps artists and students manage render farm jobs in ways they intuitively understand.
The process of creating animation sequences for film and games has gotten rather complicated in recent years, with the proliferation of tools and growth of creating teams. Render farms—groups of computers working in tandem on a project—need to be managed with sophisticated tools. But those tools do not appeal to the artists who depend on them for faster creative iterations; most animators leave the IT side to technicians.
To make it easier for artists to manage their own projects, PipelineFX has released ArtistView GUI for Qube, a visual, artist-friendly front end for Qube, PipelineFX's render management solution used by such noted firms as Digital Domain and Electronic Arts. Utilizing a relatively simple interface, ArtistView bridges the gap between artistic intent and queue control, project updates, and render previews.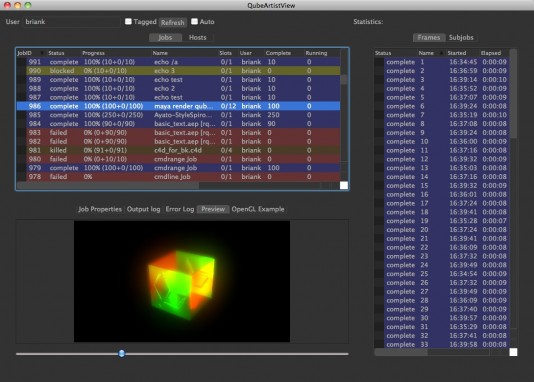 ArtistView GUI displays a full breakdown of current and planned jobs, the estimated completion times, a log history, and rendered frames previews. Users also have the ability to exercise control over the queue whether that means they want to block a job, kill it, re-attempt, or sort it for more efficient results. Users can also scrub through rendered frames inside the GUI.
ArtistView was written in PyQt, a Python-based language known for is ease of customization. Users can create their own tabs in HTML, text and OpenGL.
More information at the PipelineFX website.