Detailed cost tracking works across multiple projects and clients.
PipelineFX has updated its Qube render farm management software with new business-side features including cost reporting, time tracking, and various resource utilization improvements.
"With Qube 6.5's new features, we will be able to track our farm utilization down to the shot level," said Tony Pelle, Director of Production Technology for Rainmaker Entertainment. "Insightful data on job efficiency is what our artists and supervisors need to keep our productions on track. And with less maintenance downtime to look forward to, we'll have more time to refine the render farm to meet the ever-changing demands of our productions."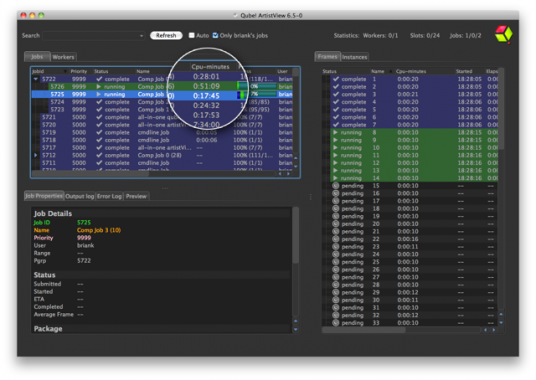 New features in Qube version 6.5 include:
"Show, Shot, Sequence" and user-definable job tags: Provides detailed insight into how farm usage rates are mapped to projects and/or clients;
Supervisor configuration re-read: Global resources, configurations and more can occur without a supervisor reload, leading to an increase in uptime;
App-Finder: Allows a job to be distributed across mixed OS farms simultaneously;
Cumulative time tracking: Total job time spent on the farm in CPU-seconds can be revealed by jobs, frames, and retries (even across varying numbers of CPUs);
Updated application support: Qube 6.5 works with Autodesk 2014 products, and supports Maxwell Cooperative Rendering with "resume rendering" support.
Customers currently on subscription can download version 6.5 immediately.