The new workstation embeds Intel Xeon CPUs and AMD FirePro GPUs inside a futuristic black cylinder. But not every Apple aficionado offers the redesign a standing ovation.
Apple made a bin load of announcements today regarding new products at its annual Worldwide Developers Conference (WWDC) 2013 in San Francisco, but none of the products met with as much polarized response as their futuristic-looking update of the Mac Pro.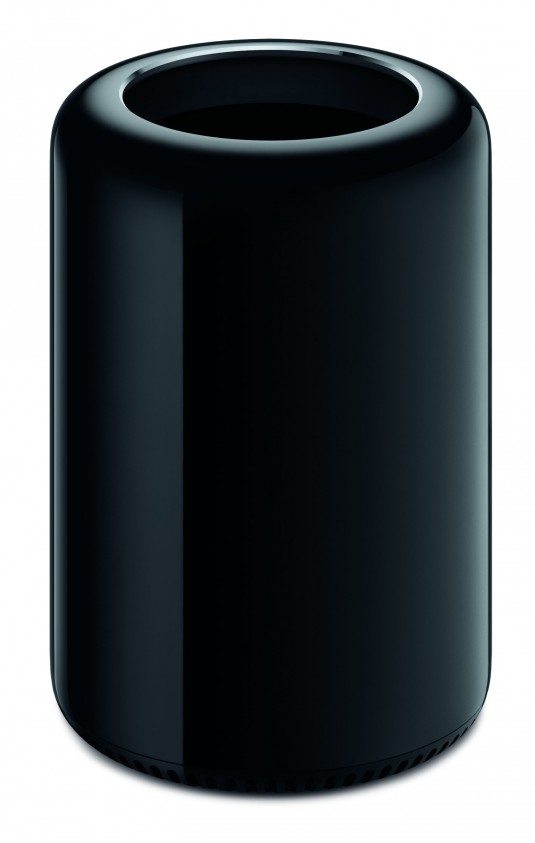 The last significant update of Mac Pro was 2010, and Apple aficionados have feared until recently Apple might abandon the power-user workstation market. But a few weeks before today's announcement rumors began to leak out about the continuation of the product line. By moving up to the latest Intel Xeon CPUs and top-of-the-line AMD GPUs, Apple has made a bold statement about its future in workstations.
The components are what you might expect from any workstation developer, with the exception of Apple-specific touches like Thunderbolt 2 I/O ports. More on that below; what sets the new Mac Pro part in the workstation market is its radical departure from the rectangular box. The new Mac Pro is a cylinder that takes up about one-eighth the volume of previous models. Inside the black cylinder is a triangular frame to create a central thermal core, making it possible to use only one fan to cool the computer. The petite design clearly gives a nod to the rising market share of SFF—Small Form Factor—workstations from vendors like HP and Lenovo.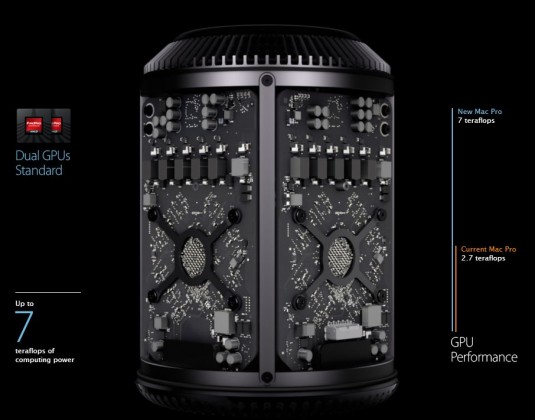 Phil Schiller, Apple's senior vice president of worldwide marketing, was in a bold mood as he introduced the new Mac Pro, saying "Can't innovate anymore, my ass" at one point. Apple claims the new model will achieve twice the overall performance of the previous model.
The external style is vaguely reminiscent of the iPhone, if one were to spin it on its polar axis until it was a circular blur. Between the style and the components that are for the most part standard on Windows workstations, the initial response from Apple fans ran the gamut. Comments on the various news sites reporting the announcement varied from the expected "Awesome!" to "iTrashcan." Some thought the redesign was more about looks than power; others bemoaned what looks to be a lock-in with AMD on graphics.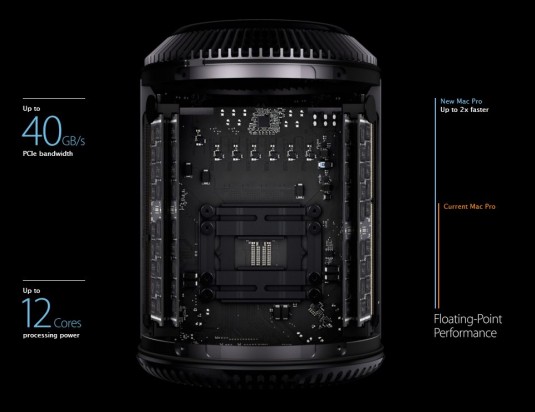 The list of specs for the new Mac Pro include:
Support for up to 12-core Xeon E5 CPUs
Two AMD FirePro GPUs
1866 MHz DDR-3 RAM
Support for up to 3 4K displays
HDMI out
Gigabit Ethernet
Thunderbolt 2  and USB 3.0 I/O
PCIe-based flash storage.
The new Mac Pro will ship later this year; price and timing specifics were not announced. Apple plans to assemble the new computer in the US.
Also announced at the WWCD were a refresh of the MacBook line, a new version of iOS, a new iTunes Radio service, and a cloud-based version of its iWork software suite.