The new monitor/input device looks like a good way to bring back drafting.
Perceptive Pixel, founded in 2006 and based in New York City, has made its name with very large screen applications for TV. The company is in the early stages of building a market for their large touchscreen displays and interface technology. The screens can be seen on TVs for the news—they're popular as interactive weather maps and they're perfect for election coverage.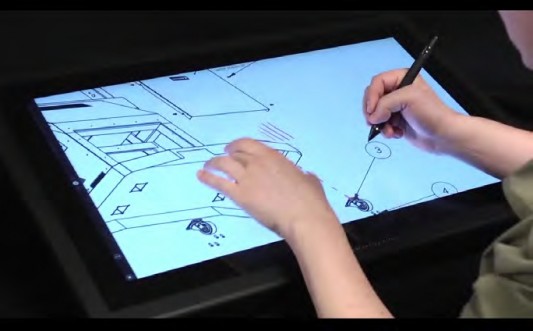 At NAB this year the company rolled out a new application for the upcoming elections with maps, the ability to access historical data, and color coding for candidates, regions, and parties. The work the company does building applications helps sell screens. Perceptive Pixel's touchscreens are capacitive, they're optically bonded to gorilla glass, and in demonstrations company presenters say the interaction feels very direct and natural. It certainly looks that way. Screens go up to 82 inches. They support over 100 touch points and can also accept input from a stylus.
Most recently the company announced its newest product for broader markets. It's a 27-inch multi-touch display with the pen stylus. In demonstrations on the company's website, Philip Davidson, the company's chief scientist, demonstrates working with the screen and a stylus for jobs like drafting. The screens recognize the palm, so you can rest your hand on the screen while you draw in a natural way. The stylus has several degrees of touch sensitivity, and the screen can work with up to 4 styluses for collaborative applications. The idea of using a stylus with the screen is to be able to move the image on the screen while you work as if you were moving a piece of paper. Davidson looks at the camera and says, "This will transform the way you work." Well, he's right, but it probably won't be tomorrow.
The screens are still priced in the "if-you-have-to-ask" category. The software is still custom tuned for applications. But clearly, Perceptive Pixel is another step down the path to making this stuff accessible.