New interoperability with plant design systems from Aveva, Bentley, and Intergraph.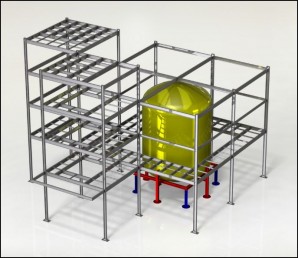 Only five months after a major update, SolidACE has released an update to BuiltWorks that provides links to the major plant design software platforms. As one of the leading AEC add-ons to SolidWorks, it provides a way for structural engineers and designers working in SolidWorks to collaborate with contractors and owners who use the leading plant design platforms from Aveva, Bentley, and Intergraph.
SolidACE, based in Vilnius, Lithuania, says the new release makes BuiltWorks suitable for exchanging General Arrangement models with Aveva PDMS, Intergraph PDS and SmartPlant 3D, and Bentley AutoPlant. SolidACE says the new version is also suitable for suitable for data exchange with the following products:
Tekla Structures
AceCad StruCAD
Design Data SDS/2 Detailing System
Bentley STAAD.Pro and RAM Structural System
Dlubal RSTAB
CSi SAP2000 and ETABS
RISA-3D
Robot Structural Analysis
AutoCAD Structural Detailing
Bentley Structural Modeler and ProSteel
Graitec Advance Steel
Autodesk Revit Structure
BuiltWorks already supports the leading formats for structural steel file formats, SDNF and CIS/2; this update features improvements on the ability to import and export these formats.
Other new features in this release include:
Support of SolidWorks native weldments
SolidWorks link to Detailing and Fabrication
Exports extrudes as structural plates
Imports structural plates as Imported Bodies