The publishing industry is struggling to be reborn. Next Issue takes the industry back to its roots, or at least the roots of the glossies, by attracting millions of readers who come for the content and interact with the ads.
By Kathleen Maher
You'd have to be illiterate not to know the publishing industry has fundamentally changed in a frighteningly short time. The Internet gradually pushed the industry closer and closer to a cliff, and then, maybe it jumped. Publishers couldn't get people to pay for their content so they gave it away, hoping advertisers would come. Online publishers also  cut the price of advertising in an attempt to compete with blogs and new web sites. And still the print industry kept falling with no bottom in sight. Almost at the same time though, digital publishing arrived as an alternative for publishers and readers. The problem is not that people don't want to read, rather, reading has become inconvenient. Looking at new e-books, the Pew Research Center has found that people who read digital books, read more content than people who read traditional printed books. Magazine apps are a little bit newer, and a lot snazzier than ebooks but people are very interested in reading magazines on their devices. A study by researchers GfK have found that 71% of tablet owners want to read digital magazines.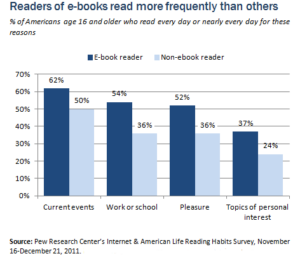 Next Issue Media hopes that as people move to digital magazines they'll read more magazines as well. Next Issue is a new company, a joint venture formed by five leading U.S.-based publishers: Conde Nast, Hearst, Meredith, News Corp., and Time Inc.  The company says it has 60% of the U.S. magazine readership in their 39 titles. Next Issue sells and delivers subscriptions to their magazines via a central online site and it offers newsstand apps for Android tablets and iPads. The company is just now rolling out their iPad application this week which will give them access to close to 70 million iPad owners.
The magazines in the Next Issue newsstand will honor print subscriptions and it offers two low cost all-inclusive plans. For $9.99 you can get all the monthlies in the news stand and for $14.99 they'll throw in the weeklies including Entertainment Weekly, People, Time, and Sports Illustrated. Next Issue has an impressive list of titles available including Better Homes and Gardens, Elle, Esquire, Fortune, Glamour, Parents, People, Real Simple, Sports Illustrated, The New Yorker, Time, Vanity Fair and many more. The catalog is expected to expand later this year. The company says it will focus on quality rather than quantity. What this really mean is that the company's charter is for high circulation, consumer magazines.
The company has had an Android site for early adopters for several months. And through their introductory period they have been paying careful attention to reader feedback. Keith Barraclough, Chief Technology Officer of Next Issue says the one consistent piece of feedback they've gotten back from people is that they want to be able to move freely from one publication to another. Next Issue has concentrated on developing a consistent interface. As digital magazines evolve, we're seeing a base level of consistency among magazines. The people at Next Issue are following the paths taken by other digital publications. A scroll across the bottom indicates individual stories. There is also a TOC icon at the top of the screen that also reveals each story. Within the magazine readers can scroll sideways to move between stories, just like turning the pages, and they can scroll down to read through a story. It seems there are pretty standard ways we want to interact with a tablet.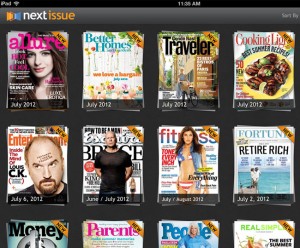 At the heart of the Next Issue plan is the desire to foster and nurture magazines' traditional advertising revenue stream and that's why they're offering the bundling deals for the magazines. As in the past, the magazines really don't care how much you pay for a subscription, a subscription is primarily a way that the publishers can demonstrate that readers are reading. Next Issue's subscription plan will expose more readers to more magazines. That Elle reader might take a dip into Sports Illustrated from time and also see a new Audi for sale that looks pretty good and along the way, both magazines get to count that reader in page views. Digital magazines open the door to higher ad revenues with more interactive content and better tracking. Barraclough says Next Issue offers the magazine publishers analytics and they're also looking at ways to develop bonus content that simply can't be offered in print.
Auditing, the way magazines prove their circulation figures, does not change dramatically. Next Issue is working with ABC, the same company that tracks print publications, to audit digital  readership. The company says it is doing its own research to determine how people are interacting with the publications. In addition, the company is working on adding bonus features to the publications including video, additional photography, interactive features and additional online information.
Technology shifts
In terms of technology, Next Issue plans to keep up with industry changes. Barraclough notes that some HTML 5 is already being used for interactive content; he mentions the New Yorker in particular but when it comes to the ways a magazine is put together, Next Issue says the publications will drive production. In general, the workflow still follows the same workflow as print. He expects to see that change, and thus in the same way TV, theater, and radio have all evolved to become quite distinct mediums, Barraclough expects digital publications to evolved to take advantage of the cloud, and of new modes of interactivity. There are slight differences in the ways the magazines look on the different devices. He says, "Different publishers have different workflows for creating the content for the different Apple and Android products, resolutions and screen sizes.  We have built facilities into the NIM (Next Issue Media) reader and infrastructure to allow 4:3 aspect ratio content and 16:9 aspect ratio content to be used on different devices." As a result, readers may see some issues with a letter box and others without.
Now that Next Issue publications have come to the iPad, will they take advantage of the Retina display? Barraclough says the various magazines are all being offered in Standard resolution. This is, again, because the magazines are really just extending their workflow. However, plans for the future call for magazines to be created in high resolution to take advantage of the Retina displays.
Next Issue already takes advantage of the cloud. Readers can pin magazines they want to keep on the machine, but as issues pile up Next Issue can do a bit of house cleaning, pulling old magazines of to make way for new ones. Readers can define how much content they want to keep on the machine, but anything that has been pulled off can be accessed again in the cloud. Barraclough says they are looking into the ability to search across magazines. This could be huge. What a fine way to gauge the general zeitgeist of an event. Plug in a hot topic, the Afghan War, Madonna's latest fashion crime, and see how the story plays in Time, Newsweek, Bon Apetite and Vogue. Not to mention, it'd be a pretty great way to find how the best way to make a Grasshopper cocktail in a war zone.
Barraclough sees newspapers remaining distinct from magazines in the sense that newspapers will report immediate news and magazines are packaged selections of stories, information and images. As the digitization of media progresses, newspapers will increase their ability to update themselves as the news changes while magazines will add interactivity and increase their use of multimedia, but it is the content's creation as a package that will keep the magazine distinct from the web page or the newspaper.
What do we think?
The Next Issue interface works well and it's beyond gratifying to see so many magazines lined up on the newsstand just waiting to be read. There are still mysteries. Some magazines just don't seem to perform as expected. There's a little more focus group work to be done and clearly there is some content that was created for the published page that has not been reimagined as a digital page. For instance, an issue of Time features a large data map, but the only way to see all the information was to shove it around. I mean really, why in the world couldn't it scale to see what all is there and then maybe zoom in to get a closer look at the data. This is the sort of thing that gets fixed quickly. It's a little more challenging for magazine publishers to figure out how they're going to use video and multimedia in their workflows. Tool makers Adobe, Woodwing, Quark, Texterity, and Moving Media+ (to name the ones we know off hand) are racing to figure to update their tools as the industry changes.
But before we get too happy with all this, let's remember that the introduction of the Internet gave a voice to the disenfranchised of the world. People have created their own content and in many cases they've done a just fine job of ensuring the content is high quality and fact-checked. This new wave of digital publishing tools, sites, and apps with monitoring and analysis, are primarily designed to stanch the bleeding of the larger publication houses and maintain their margins, which are astronomical compared to web sites.
There is yet some evolving to do to nurture young voices, outsider publications, and offbeat topics in magazine publishing and that too is going to happen. Barraclough says of the digital publishing world, "we're at the fat end of the tail, time will tell how long it is."