Qualcomm's Vuforia and HP's Aurasma can make objects or the passing scene part of the mobile experience.
By Kathleen Maher
[Editor's Note: Some of the Jon Peddie Research staff attended the Consumer Electronics Show in Las Vegas recently, including Editor-in-Chief Kathleen Maher, who shares what she found in augmented reality applications.]
There seemed to be a real uptick in augmented reality (AR) applications at the Consumer Electronics Show this year, and mobile phones are a huge enabler. Qualcomm has developed Vuforia, enabling technology for AR. During the Qualcomm keynote a Vuforia app was demonstrated by Sesame Street's Grover. QR Codes are everywhere but so far they've been used for simple jumps to web pages and the occasional app download. More advanced applications involving 3D models, video, and animation have been a little slower to materialize since they're a challenge for the processor. That's changing with the latest generation of new phones.

Qualcomm's augmented reality platform for Android smartphones was introduced last year and is being distributed via an SDK through Qualcomm's developer network. The SDK takes advantage of Qualcomm's chipsets but the content will run on all Android phones. The Vuforia brand seems to have appeared around the CES time frame or we haven't been paying attention. It is being developed for marketers and developers and supports iOS, Android, and Unity 3D.
During the keynote Grover and David Glauber of Sesame Street's Innovation Lab made an appearance to show how Sesame Street is using Vuforia to enhance its educational work. Kids can point their tablets or phones at special Sesame Street toy characters and the camera will recognize them and put them in a 3D environment.
The company's Innovation Lab is working on the technology so that it will recognize all Sesame Street toys such as plush dolls, etc. There are games that ask children to complete an activity and the technology is being developed to enable child-driven play as well. Grover seemed to really like it.
A new aura for HP
HP really liked Aurasma and so they bought the company. Well actually they really liked Autonomy and they bought that company for around $10.2 billion. Autonomy is an enterprise search and knowledge management company with expertise in adaptive pattern recognition. It is a company that has grown through acquisition and as HP sifted through all the stuff it has bought it found Aurasma, a tool for creating augmented reality content called Auras.
Aurasma doesn't need to use QR codes to do its stuff. Instead, this is a demonstration of Autonomy's pattern recognition talents. It's building a bank of images that can be associated with other content, a video, animation, a model. The associated content is triggered when the software recognizes the image. Users are encouraged to create their own "Auras." They can use their phone and the software to take a picture and associate it with something else. Users are invited to upload their Auras to Autonomy's servers to share.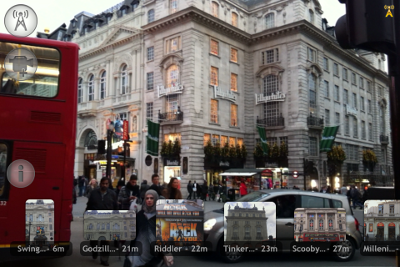 In another mainstream application of augmented reality, the Sesame Street characters also made an appearance at the Microsoft keynote to promote Sesame Street Kinect. Using the Kinect, kids can put themselves in the TV show, they can interact with characters—say tossing imaginary coconuts to Grover who catches them if he can and even comments on the quality of the throw. A new app is coming from National Geographic as well. Stay tuned.
Where is this headed?
We've always been believers in AR. First of all, why type if you can point at something and second, it's fun. Translating menus has been highlighted as an obvious use but Aurasma is busy adding content to the real world so that if you point your camera at a recognizable place like Tottenham Court or the London Underground map you'll be rewarded with additional content. Our experiments with Aurasma were not entirely happy. The content did not always play well or predictably, but don't forget processors are getting better exponentially. And as the Kinect example shows, there are a lot of ways this technology is going to enter our lives.