Online parts libraries are win-win. Engineering saves time and money; vendors have access to a wider marketplace.  
For years EMA Design Automation has specialized in access to data for electronic design automation and electronics parts for general manufacturing. Building on their expertise, EMA has now launched Ultra Librarian Online, a web-based version of its Ultra Librarian software. More than 40 million components and 9 million parts are now searchable through the online service.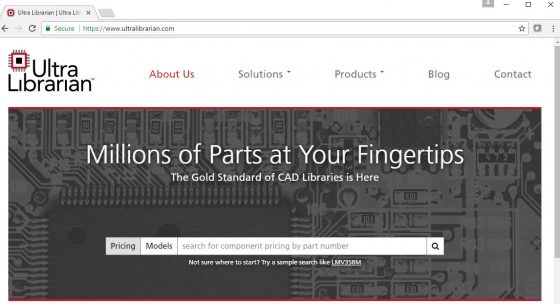 The new Ultra Librarian website allows users to search to compare pricing, availability, and technical information in order to find the perfect parts for designs. The site allows searching by part number, partial part number, or keyword. Non-specific searches often return tens of thousands of results, so users can narrow their search by category, compliance, distributor, or manufacturer. The resulting part list includes links to a detail page, the manufacturer, and the datasheet for final selection. Once the appropriate part is selected, the user can switch to the model page to download a symbol, footprint, and 3D STEP model for the part, if they exist.
The cloud-based Ultra Librarian model library currently has coverage for over 9 million parts. EMA says many of these parts were created through relationships with the part manufacturers, covering the latest and most widely used components.  All website users have access to the full library where they can search for a part, preview the symbol, footprint, and 3D model, and then download one or all of them for the design tools of their choice.  
Ultra Librarian supports 22 of the most widely used EDA tools, and all popular MCAD tools support the STEP format, making UltraLibrarian.com useful to almost every electronics and mechanical designer.
Part pricing information is available for free. Up to 30 model downloads per month are also free, and each download can include a symbol, a footprint, and a 3D model allowing up to 90 ECAD/MCAD models free per month.  Subscriptions are also available allowing for more model downloads.
What do we think?
Pre-drawn parts save engineers a lot of time, in more ways than one. They find the supplier they need, get the specifications they need, and they don't have to design from scratch. The easier the access to information, the more likely someone will be to spec a part or component. It's win/win.